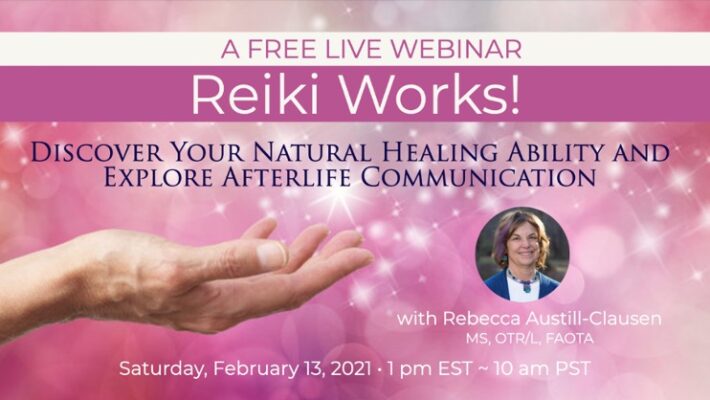 Reiki Works! Free Live Webinar – February 13
Reiki Works! Discover Your Natural Healing Ability and Explore Afterlife Communication 

Would you like to reduce stress and restore a sense of calmness to your life, and imagine living without anxiety about the future? Our lives have been turned upside down during this past year of cataclysmic change. Do you wonder if you can ever return to a state of normalcy? Our bodies have internal energetic centers that we can access.
Activating these natural healing energy sites can happen with just one day of training. You can enter a state of relaxation on a daily basis. You can discover how to heal yourself and assist others with their healing journey. Millions of people including medical professionals use Reiki to expand their awareness and intuitive skills while helping clients to heal. As we increase our understanding of energetic dynamics, we discover the connectedness of all life. We become enabled to communicate with loved ones living beyond.
Discover 3 keys of Reiki Energy that expand your ability to navigate your life in a positive, successful manner. You can improve the health and well-being of yourself and others.
Our friend and colleague, Rebecca Austill-Clausen is hosting a FREE, live webinar where she will explain how YOU can activate your own energy using 3 key concepts:
Recognize and use your own healing vitality that is already available for you.
Discover where your body holds energy that needs to be released.
Why Reiki, often called unconditional LOVE, opens communication channels with your deceased loved ones.
Rebecca is an Occupational Therapist and Reiki Master and has studied energy healing for over 25 years. She has shared the joys of Reiki with thousands of people from around the world.
Transform your stress into love by attending this unique and FREE webinar. You'll enjoy Rebecca's positivity while being surrounded by love. Explore Reiki ~ Reiki Works!