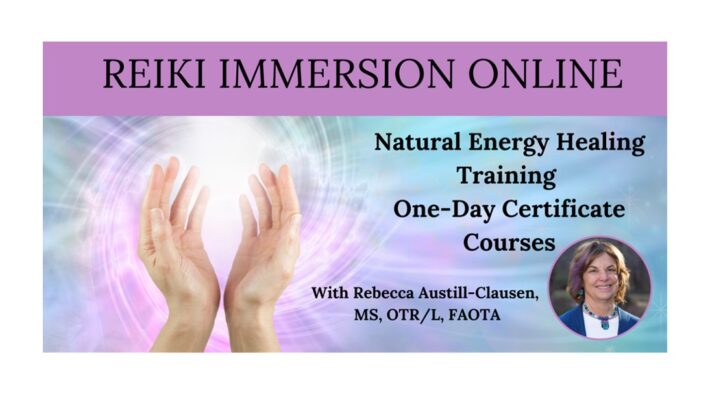 Reiki Immersion Online – March 5
Reiki, used by millions of people is an effective way to self-heal, reduce stress, and increase a sense of well-being. Reiki reduces both physical and emotional pain.
Most of us have a difficult time relaxing our minds. There is so much "noise" occurring in our lives that we find it hard to give ourselves permission to relax, refresh, and reduce daily stress.
Reiki also enhances your ability to communicate with your deceased loved ones due to the increased energetic vibrational flow that occurs.
It is amazing that you can learn Reiki in one day!
Discover how you can decrease pain, stress, and anxiety, and increase afterlife communication by attending "Reiki Immersion Online, Natural Energy Healing Training, 1 Day Weekend Certificate Classes" LIVE this March.
Check out Reiki Immersion Online: Natural Energy Healing Training ~ 1 Day Certificate Course and bring peace back into your life.
Reiki Level I: Saturday, March 5, 2022, 12-7:00 EST
Activate and Utilize Reiki's Natural Healing Energy
Reiki Level II: Sunday, March 6, 2022, 12-7:00 EST
Discover Why Reiki Works and Expand Your Healing Skills
Reiki Master Level III: Saturday, March 12, 2022 (6 months experience required along with a 1:1 interview with the presenter), 12-7:00 EST
Learn to Teach Reiki and Advance Clinical Mastery
Here's a summary of what you will receive by attending any of the one day Reiki training classes:
One day of LIVE training provided on Saturday or Sunday for each Reiki Level.
Extensive interactive group discussions and Q&A.
Opportunities to receive and share Reiki with numerous partners.
Multiple experiential practices and reflective activities specially designed to enhance your understanding and integration of the course content covered.
Discounted rates if you attend both Reiki Level I and Level II in one weekend
Three sound healing meditations with crystal singing bowls, the vibrational Freenotes instrument, and a percussion pan-drum called the Hang.
A certificate in the Usui form of Natural Energy Healing that signifies the completion of each Reiki Level, i.e., Reiki Level I, Reiki Level II, and Reiki Master Level III.
Continuing Education Approval for 6.0 contact hours by the National Board of Certification for Occupational Therapy, for each class attended.
Invitation to join Rebecca's Reiki Facebook Community.
Special Boutique of Books, Research & Resource recommendations for each class.
Our friend and colleague, Rebecca Austill-Clausen, Occupational Therapist and Reiki Master has studied energy healing for over 25 years. Rebecca shares the joys of Reiki with thousands of people from around the world.
Transform your stress into love by attending these unique one day training classes.
You'll enjoy Rebecca's positivity while being surrounded by love.