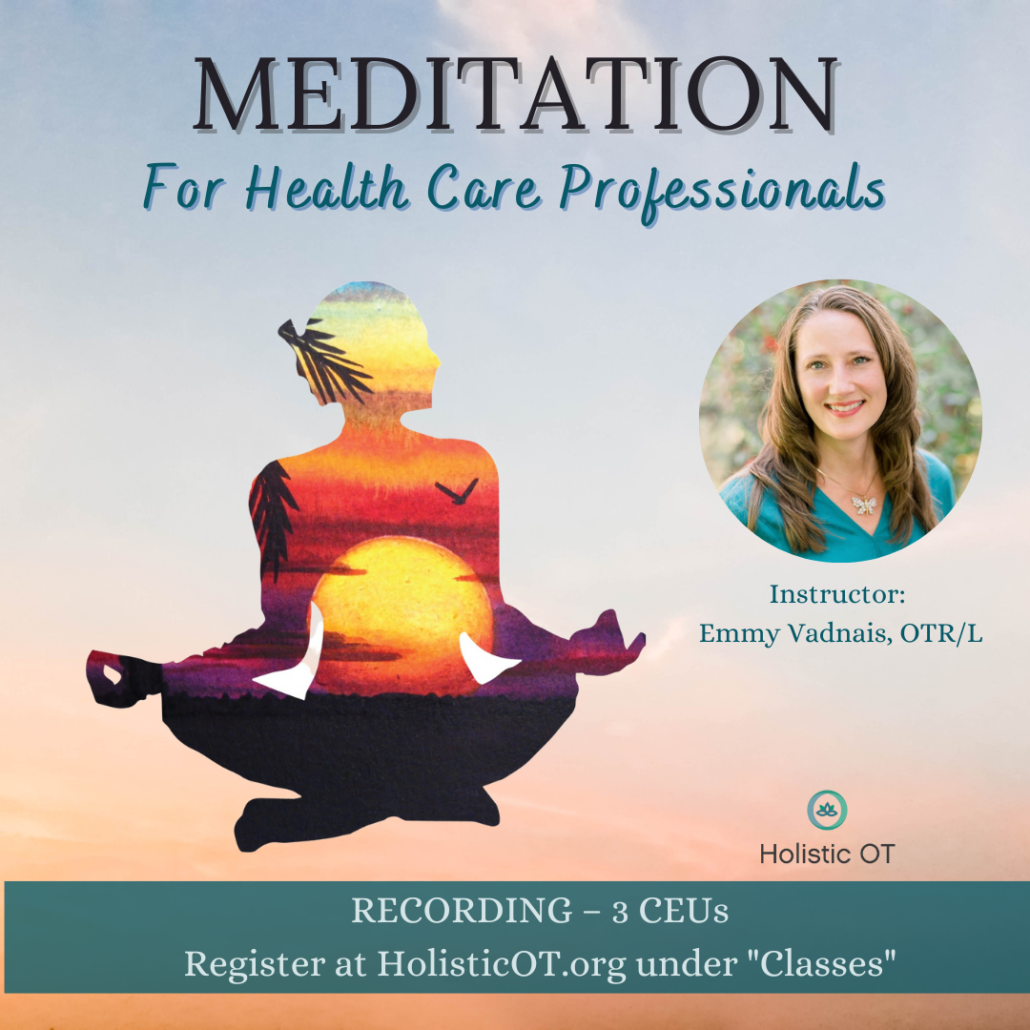 Meditation for Health Care Professionals
Instructor: Emmy Vadnais, OTR/L
Recording
3 CEUs
$55 for Full Members, $75 for Non-members – become a member here
Discover the Benefits of Meditation for Your Professional and Personal Life.
Meditation and Relaxation have many health benefits that can assist with managing and the reduction of pain, stress, anxiety, and increasing recovery time and disease prevention. In this course you will be guided through several relaxation and meditation scripts that can be used with your clients and for your self-care.
This is an Introductory Level Class that is available to Health Care Professionals and  anyone who wants to learn these techniques for their own self-care and personal development or to help others. These courses will enhance any Health Care Professionals skills who would like to bring a Mind-Body-Spirit, Prevention, and Wellness approach to Healing. Excellent for Occupational Therapists, Physical Therapists, Speech Therapists, Nurses, Physicians, Mental Health Practitioners, Massage Therapists, Yoga Practitioners, and any one caring for others.
Read The Power of Meditation by Emmy Vadnais, OTR/L, originally published on ADVANCE Magazine.
You will Learn:
Practice five meditations that can be integrated into your personal self-care and health care practices.
Understand three ways to induce the relaxation response and how it can lower pain, stress, anxiety, and heal all the way to the genetic level.
Describe how to engage in mindfulness as a meditation and during Activities of Daily Living.
Describe how meditation, the mind-body-spirit connection, and psychoneuroimmunology can help with prevention, wellness, and disease recovery.
Increase your confidence with mind, body, spirit healing.
Deepen your own meditation practice for health, wellness, peace, and joy in your life.
Continuing Education – 3 CEUs
Health Care Professionals will receive a Certificate of Completion that may be submitted to your professional board for professional development credits. A completed course evaluation is required within 30 days after taking the class to receive a Certificate of Completion. This course meets the NBCOT requirement as a Professional Development Activity PDU ID #14.
Testimonials from Previous Students
"This was an excellent course! Emmy was highly knowledgeable! The information was presented in a relatable and applicable way! I took this course to deepen my understanding of self and clients through meditation to holistically combat anxiety and stressors! Leaving the course, I found meditation does much much more! I look forward to more courses!" Jessica Harris, MS, OTR/L
"Emmy presents information and examples in a way that is easy to understand and practice. The resources and evidence presented offer support for meditation as a valuable tool for personal and professional application. I highly recommend this class for health care practitioners." Barbara Flett, MS, OTR/L
"Great class! I'm so happy I took the Meditation for Health Care Professionals class. I loved being guided through the meditations so I could experience them for myself and gain a deeper understanding of how to use these in the future. Emmy provides a comprehensive overview of the spiritual, emotional and physical benefits of meditation, and guides participants through several different meditation techniques. My toolkit for stress reduction techniques continues to grow thanks to Emmy's classes. I can't wait to take what I've learned and share this with others, while also weaving these strategies into my own daily self-care practice. Thank you for another great course, Emmy!" Caito Bowles-Roth, OTR
"After taking the Meditation for Health Care Professionals, I have a greater understanding of how it can be implemented during my occupational therapy sessions. I feel more understanding about the benefits of meditation and feel more confident about incorporating it with my clients of various backgrounds." Kali Campbell, OTR/L
"This webinar was exactly what I needed. I am feeling feelings of burnout from working in my practice setting. I need the structure of a mindfulness practice to help me work through these sensation." Olivia Glover White, OTD, OTR/L, C/NDT, RYT200
"Thank you, Emmy, I have had a regular meditation practice for 12 years now but I love to see the evidence behind this and to have the information synthesized in such a way like you have done. Despite the many benefits I have gained, I have been reluctant to introduce my clients to it out of fear of being able to articulate the reasoning behind it. I will feel more confident doing so now from the structure provided here." Lee Byars, Occupational Therapist B. App. Sc (OT)
"I really enjoyed taking this course, Meditation for Health Care Professionals, and found it directly applicable to my personal and professional life. I believe all people could benefit from taking this course and furthering their awareness of their own emotional tendencies and how to quickly embrace these tendencies in order to move forward in a loving light. Patients in all settings would benefit from having a practitioner who has an awareness of meditation, to either plant the seed for the patient to look into this more independently, or practice in the clinical settling. Thank you, Emmy!" Emily Thurner, OTR/L
"Emmy's approach is direct and informative, but also friendly and caring at the same time. The information is easy to follow and well-connected in that it makes sense and is also inviting to me. She is a great model in effectively guiding the meditations that make it easy for me to feel that I can guide others, as well. While I agree that having a client directly experience the effects of meditation (or energy treatment) is best at convincing them of the benefits, I appreciate the added supporting research and resources given. I also appreciate the layout of this course for my use as a reference in the future and having the individual meditation practices on separate pages for working with clients, students, and my own personal practice. This course offers wonderful meditation practices for personal use and working with clients to address mental, emotional, and spiritual parts of our humanness. As an OTR/L and RYT, I use a predominantly physiyoga approach in my private practice that involves incorporating yogic physical postures into my interventions. This Meditation for Health Care Professionals class is a wonderful supplement to my practice. While I have studied and have practiced meditation for many years, several of the meditations provided were new to me and for that I am truly grateful!" Thank you! Cathy George, MSOT, RYT
"I very much enjoyed the thoughtful and systematic way that Emmy laid out this class which makes it easier for an occupational therapist to incorporate meditation as a modality of practice. I appreciated her practical pointers in how to "bill" for these services in a traditional model, within our scope of practice. This class put much of what I have learned "on my own" about meditation into the occupational therapy "lens", which really helps me to grow professionally in a topic that has already been personally interesting and impactful in my life." Tanya Gauthier, LOTR
"You presented in a clear, concise manner, and tied the info into functional use as an OT nicely. Your voice was so soothing! This was an excellent class! Thank you."
"I am happy to let you know that I have been meditating on a regular for the last month and loving it. I have really been able to alleviate my stress. Thank you, Emmy!"
"I am an OTR/L in a mental health school based setting. I work with a variety of students who have emotional struggles, aggressive behaviors, and abusive pasts. I have already tried incorporating some of these strategies into my 1:1 sessions to promote stress management and also to be used as a positive coping strategy. Some techniques used so far include some progressive muscle relaxation, guided imagery, and deep breathing meditations using a Hoberman sphere as a visual guide and a stuffed animal positioned on the student's tummy as a tactile guide. So far my older students (7-8 yrs) have really been enjoying it, and I am still learning how to best modify the exercises for my younger kiddos (4-6 yrs). Thank you so much for this information. I truly love putting new interventions into practice!" Kelly Maher, MS, OTR/L
"I enjoyed this course in its entirety. I found many "golden nuggets" of insight to share with others. No matter how much you may think you know about the meditation practice, there is always much more to learn. I would recommend this course to any individual – from the simply curious to the individual with an already established advanced practice." Heaven Marculis, OTR
"I have been a meditator for 4 years now & it has changed my life, truly. I have been an OT for 7 years and within the last 4 specifically, have wondered how to incorporate mindfulness and meditation into practice more so than just diaphragmatic breathing with COPD patients or patients in a lot of pain. This course was so good at simply instructing us in exactly how to do that! The billing component was perfect!! I learned a lot – Thanks!" Magan Gramling, OT and a CLT (Certified Lymphedema Therapist)
Class Policy
Payment is due in full one week before the start of class. Refunds will not be given after the first class. You must attend each class to receive a Certificate of Completion. If you miss one class you will need to make it up with Emmy based on an hourly rate. If you miss more than one class in a series you will need to retake the entire level. Full refunds will be given if the entire class is cancelled by the instructor. Complaints can be handled with Emmy Vadnais, OTR/L.