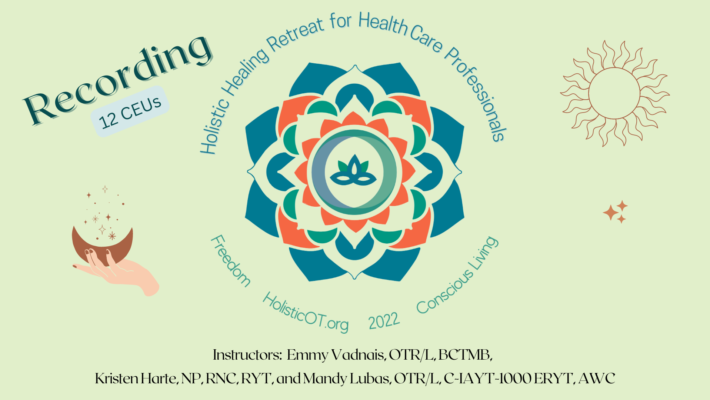 Holistic Healing Retreat for Health Care Professionals:
Freedom and Conscious Living with Yoga, Meditation, and Intuition
Instructors: Emmy Vadnais, OTR/L, BCTMB, Kristen Harte, NP, RNC, RYT, and Mandy Lubas, OTR/L, C-IAYT, 1000-ERYT, AWC

Recording
Regular Price: $449
Holistic OT Full Member: $399
Continuing Education: 12 Hours
This course meets the NBCOT requirement as a Professional Development Activity.
This educational retreat is available to all health care practitioners.
Check with your professional board for requirements for third party education.
Join Emmy, Mandy, and Kristen for two days via online video immersing yourself in yoga and meditation to develop and deepen your own self-care practices and skills that you can use with clients for mind, body, and soul health, wellness & prevention. This educational retreat is available to all health care practitioners.
Join the retreat from the comfort of your home or anywhere in the world!

Deepen your self-care practice for mind, body, and soul health, wellness and prevention.

 



Please bring to class: Journal, yoga strap, yoga mat, small sacred or meaningful object and a chakra pendulum
Retreat Description:

Life is ever changing. Our world and each of us need healing. Relieve feelings of burn out or moral injury. Learn how to feel soothed and grounded when your mind and energy may be stressed and spinning fast. Be seen, heard, held and supported by three experienced integrative health medical practitioners during this respite and rejuvenating retreat for energetic balancing. Come and reset as you are taken through a healing journey using yoga therapy, Ayurvedic routines, rituals, meditation, intuitive development, and energy healing practices. Immerse yourself in a holistic healing retreat for your mind, body, and spirit. Awaken yourself with a magical healing elixir that may set you and others around you free with joy, love, and conscious living.

Learning Objectives:
You will:
Understand and practice key concepts of the 8 limbs of yoga for healthy habits and routines in daily life.

Experience five benefits and efficacy-based research about the art and science of meditation and samadhi to enhance self-care, health, and wellness and

prevent or recover from burnout.

Gain knowledge and experience three yoga asana, pranayama, and meditation strategies to support healthy conditions for self, family, and clients.

Use five concepts of Ayurveda to make positive changes in your life to re-balance the mind, body, and spirit for a healthy lifestyle.

Expand and deepen your conscious connection to yourself and inner knowing for improved clarity, guidance, and decision-making with three intuitive development techniques.

Demonstrate three approaches to align healing vibration and the human energy system for stress reduction, and lowering physical and emotional pain.

Testimonials
"I highly recommend the holistic healing retreat for health care professionals. It does feel like a retreat in the sense that it is nurturing to the soul. But it is also full of a wealth of tools that we, as health care practitioners, can then share with our clients. The instructors clearly explained the research and evidence behind the practices and techniques presented, and the best part was getting to try all of them out for myself. I came away from this class feeling grounded, capable of managing my health, and more spiritually aware. Thank you to Emmy, Mandy, and Kristen for developing a fantastic class and for being fully present and engaged with us every step of the way." Rose Miller, OTR/L
"The Holistic Healing Retreat for Healthcare Professionals is a rejuvenating way to spend the weekend learning about yourself as a healer and about the varied needs of your patients and clients. This healing retreat for health care professionals was both nourishing and educational. The space felt safe, loving and brave. Ayurveda has a wealth of complex knowledge, and energy healing is such a potent practice all of us can bring to enhance the work we do. It was apparent the kind regard these teachers have for each other, their own innate knowing, and their ability to convey the material clearly and powerfully. I will definitely use these tools for my patients for myself. Thank you!" Vanessa Hemingway, OTR, MS, MFA, CLT
"I thoroughly enjoyed this course, Emmy, Mandy, and Kristen were able to convey their vast knowledge in such a way that made new ideas understandable. After 35 years of working in our profession, it is refreshing to find such a unique topic that focused on areas that I have been interested in for years but have not known how to integrate into therapy. Personally, I feel more centered and grounded after the various meditations and yoga techniques experienced during these two lovely retreat days."  Lourdes Paez OTR/L
"I really enjoyed the depth and variety of information shared. For me, nothing is more powerful than learning through experience and the instructions beautifully led us through a variety of asanas, guided imagery, progressive muscle relaxation, abdominal breathing and more. It was so important to have this practice modeled in real time. I also really appreciated the discussions around bringing this into sessions as evidence-based practice." Cole Foright, OTR/L
"Emmy, Mandy, and Kristen were very knowledgeable about the subject matter, and created a wonderful educational and personal space to deepen our relationship with ourselves individually, as well as within our profession as clinicians." Lori Hansen, MS, OTR/L
– SCHEDULE – 

Day 1: 
9:00 – 9:15 Welcome with Mandy, Kristen, and Emmy
9:15 – 10:30  Deepen Your Yoga Practice with the 8 Limbs (Mandy & Kristen)
10:30 – 10:45 – BREAK –
10:45 – 12:00 The Art & Science of Meditation: The Fundamental Practice of Yoga Toward Samadhi (Emmy) 
12:00 – 12:30 – LUNCH –
12:30 – 2:00 Yoga Therapy to Avoid Burnout

2:00 – 2:15 – BREAK –
2:15 –  3:30 Spirituality Reflections: What is Spirituality and How Can it Impact Health & Healing?  Emmy) 
15 minute Q & A
Day 2: Sunday, October 23, 2022
9:00 – 9:15 Morning Yoga Practice (Mandy and Kristen) – will need 2 blocks and a belt; teaching a small yoga practice
9:15 – 10:30 Intro to Ayurveda: Discovering your Body Constitution and Ways to Create Balance in Your Life (Mandy and Kristen)
10:30 – 10:45  – BREAK –
10:45 – 12:00 How to Listen to Your Intuition: Heart Wisdom for Health & Wellness (Emmy)
15 minute Q & A
12:00 – 12:30 – LUNCH –
12:30 – 1:15 Yoga Therapy, Breath Work, and Chanting (Mandy and Kristen)
1:15 – 2:00 Levels of Light & Consciousness: Chakra Assessment & Clearing (Emmy) 
2:00 – 2:15 – BREAK –
2:15 –  3:15 Levels of Light & Consciousness: Empaths & Clearing  (Kristen)
15 minute Q & A
---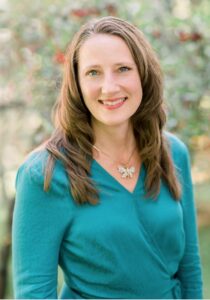 Emmy Vadnais
Emmy Vadnais, OTR/L, BCTMB is a Holistic Occupational Therapist, Intuitive Healer, and Health Coach who is Board Certified in Therapeutic Massage and Bodywork and specializes in integrative health, wellness, and prevention. She is author of "Intuitive Development: How to Trust Your Inner Knowing for Guidance with Relationships, Health, and Spirituality." She graduated with her B.S. in occupational therapy and psychology from St. Catherine University in 1996. She is the founder and director of the Holistic OT Community that supports OTs interested in or practicing integrative health, wellness and prevention. She has a deep understanding of the mind-body-spirit connection having provided care as an OT and integrative health practitioner in the hospital setting, nursing homes, clinics, and private practice. She is trained in medical qigong energy healing, meditation, mindfulness, relaxation techniques, intuitive development and healing, guided imagery, massage therapy, acupressure, reflexology, aromatherapy, myofascial release, craniosacral therapy, emotional freedom technique (EFT), and yoga. She has been studying and practicing holistic and integrative health for over 20 years. She teaches continuing education and provides consultation and coaching to health care professionals about how to incorporate holistic and integrative health approaches into their practice and for self-care. She is Host of the Healing Connections Podcast and is Guest Host on the New Thinking Allowed YouTube Channel. She is in private practice serving children and adults in St. Paul, MN. Visit EmmyVadnais.com and HolisticOT.org.
---
Mandy Lubas
Mandy Lubas, OTR/L, C-IAYT, AWC
is a Holistic Occupational Therapist who is a graduate of Quinnipiac University in 2001. She has been in the field of medicine since 2001 working with people of all ages. She is certified in Sensory Integration, trained in Craniosacral Therapy, a Registered Yoga Therapist and graduate of Kerala Academy as an Ayurvedic Wellness Counselor. Her certification as a Panchakarma Technician allows her to provide 5 therapeutic Ayurvedic manual therapies for specific pathologies, for the reduction of pain, for overall stress reduction, and to manage orthopedic injuries for any given athlete. Currently she works as a Holistic Occupational Therapist, is a mentor and educator for occupational therapy students and professors in holistic therapies. She also teaches yoga, co-teaches workshops, and assists in building community of conscious living. She has presented at conferences for MAOT and at local colleges throughout the Boston area to educate practitioners, students, teachers, and colleagues on her passion of merging Yoga and Ayurveda into the medical community. She has been published in OTAdvance Magazine where she writes about her personal experiences in her own healing journey and the work she provides with her clients using these holistic approaches. Visit
HolisticTherapies4Life.com
.
---
Kristen Harte
Kristen Harte, MSN, NP, RYT
Kristen is a Nurse Practitioner specializing in Women's Health. She graduated with a Bachelors of Science in Nursing in 1987 from West Chester University and a Master's degree from The University of Pennsylvania in 1990. She has been in the field of medicine since 1987. She embarked on her holistic path over 10 years ago for her own health and well-being. She is a Reiki master, a certified Acutonics practitioner and is certified in Body-Feedback with essential oils. She also practices astrology and other forms of energy medicine such as Shamanism and Intuitive Plant Medicine. Kristen has taught workshops in meditation, energy medicine, essential oils, and Munay-Ki Rites within the community. She is a 200-hour certified yoga teacher which further enhances her ability to integrate the mind-body-spirit for herself and her clients. Her medical background combined with her holistic modalities offer her patients a unique approach to healing. Her goal is to empower her patients to tap into their own abilities to heal and find balance in their lives. Kristen treats women, men, and children of all ages in her holistic practice. Visit
HolisticTherapies4Life.com
.
---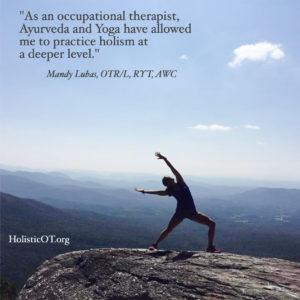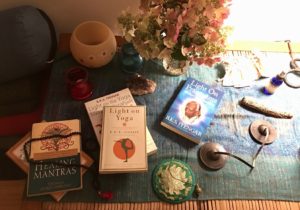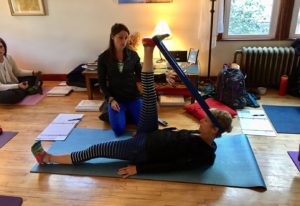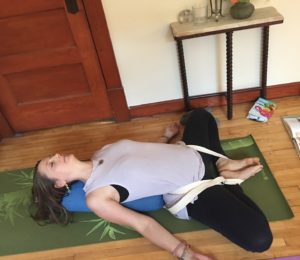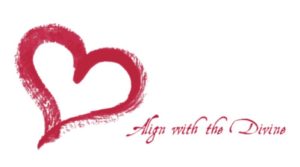 "Who looks outside dreams, who looks inside awakes." Carl Jung