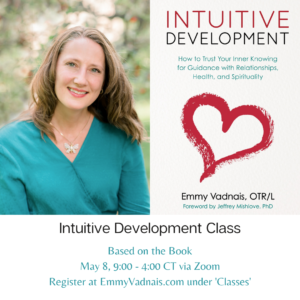 Intuitive Development Class
New Class ––to go along with her new book!
Instructor: Emmy Vadnais, OTR/L
Date: May 8, 9:00 a.m. – 4:00 p.m. Central Time
Location: Zoom Live Video
Price: $99
Would you like to feel more connected to your heart and able to listen to your soul?
Please read Intuitive Development: How to Trust Your Inner Knowing for Guidance with Relationships, Health, and Spirituality (at least through chapter 9) and create the intuitive development cards on pages 121 – 122 (make at least 20 cards) prior to the class. 
Learn:
How intuition can help you to make the best decisions in your life
What intuition is and why intuition is important
How you may perceive intuition
Ways to connect with intuition
Meditations to access and strengthen your intuition
How to gain confidence & trust your intuition
Discerning emotions & intuition
Connect more deeply with your heart, intuition, spirituality, and soul
Experience peaceful meditations that will quiet the mind and connect you to your soul
Find peace within with guidance and direction in your life
Live with more meaning, purpose, and fulfillment
Feel more connection, peace, joy and love