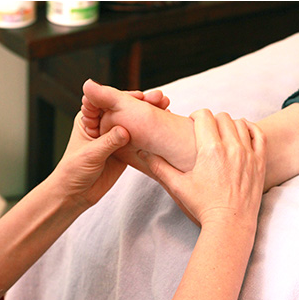 Reflexology Intro Class
Would you like to learn how to provide Reflexology? Learn basic skills that you can incorporate in to your health care practice or provide to loved ones in this 3 hour class.
Course Description:
Reflexology can easily be incorporated into any health care setting to alleviate pain, stress, anxiety, depression, boost mood, increase joy, a sense of well-being, prevention, and enhance participation in Activities of Daily Living. Learn basic skills that you can incorporate in to your health care practice.
Course Objectives:
History of Reflexology
Identify 5 Reflexology reflex areas
Demonstrate 5 Foot Reflexology techniques
Identify 3 similarities and 3 differences of Reflexology & Massage Therapy
Demonstrate proper Reflexology body mechanics
Testimonial
"I feel this class was very helpful for developing my holistic OT knowledge and abilities. Emmy is very good at teaching these techniques. This class was very hands-on and not only did I learn the techniques and practice them in depth, I also got to experience them being done on myself, which really helped me understand and learn. Thank you so much, Emmy! I can't imagine a better way to learn this information!" Jessica Dehn OTR/L
"Reflexology Intro is a class that can benefit anyone and everyone! It is a wonderful combination of getting in touch with your body by relieving tension and stress, plus it is a great activity to share with family, friends, and whomever needs relaxation, stress reduction, building your health (up a notch) and tender loving care. Emmy does a great job of teaching that is easy to understand and follow the information provided. She also demonstrates and coaches in a user friendly manner!" Paulette Vadnais, Health Care Companion
Instructor: Emmy Vadnais, OTR/L
Emmy Vadnais has an extensive background in massage, reflexology, and bodywork. She received her National Therapeutic Massage and Bodywork Certification in 2000 and American Reflexology Board Certification in 2001. She has assisted thousands of people to relax, de-stress, lower muscular tension, relieve pain, anxiety, depression, and assist with healing and recovery in a variety of settings including skilled nursing facility, all units of the hospital, physical medicine and rehab, health and wellness outpatient clinic, and private practice. She has been teaching massage therapy and reflexology since 2001. She prepared reflexology students for their American Board Certified Reflexology certification at Sr. Rosalind's School of Professional Massage and helped develop and teach massage and reflexology programs at the Penny George Institute for Health & Healing at Abbott Northwestern Hospital in Minneapolis, MN.
Certificate of Completion
Health Care Professionals will receive a Certificate of Completion that may be submitted to your professional board for professional development credits. A completed course evaluation is required within 30 days of taking the class to receive a Certificate of Completion.
Distant Learning
Not available for this class.
Class Policy
Payment is due in full one week before the start of class. Refunds will not be given after the first class. You must attend each class to receive a Certificate of Completion. If you miss one class you will need to make it up with Emmy based on an hourly rate. If you miss more than one class in a series you will need to retake the entire level. Full refunds will be given if the entire class is cancelled by the instructor. Complaints can be handled with Emmy Vadnais, OTR/L.