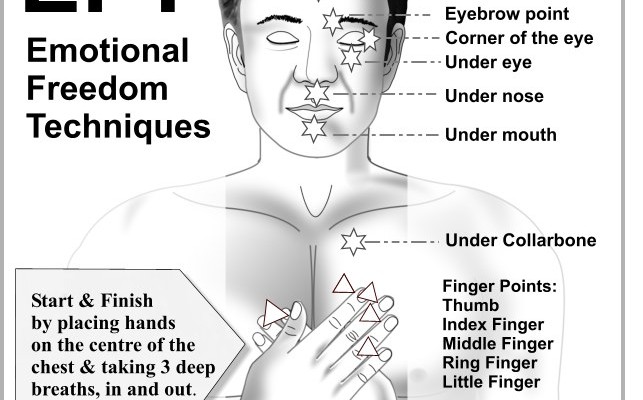 Emotional Freedom Technique – EFT Class 9/24/18

EFT – Emotional Freedom Technique Intro Class
September 24, 5:00 p.m. – 8:00 p.m. Central Time
Live Online Video Class
Instructor: Emmy Vadnais, OTR/L
You will Learn in the EFT Intro Class:
Two EFT recipes
EFT History
The Human Energy System
How it Correlates with Acupressure
EFT Researched Benefits for Mind, Body, Spirit Health and Wellness
$99
Emotional Freedom Technique (EFT) combines energy psychology and acupressure to alleviate physical, mental, emotional, and spiritual symptoms and reach positive goals. EFT is an efficacy-based practice according to the American Psychological Association. Several studies have shown statistical significance with lowering stress, physical and emotional pain, anxiety, depression, and post-traumatic stress syndrome. More research is underway as case studies show additional benefits.
According to the Association of Comprehensive Energy Psychology, energy psychology combines cognitive interventions (including focused awareness and mindfulness, imagined exposure to traumatic memories, positive outcomes, and cognitive reframing) simultaneously with the stimulation of one or more of the human bio-energy systems such as meridians, chakras, and biofields.
Read the article in ADVANCE Magazine by Emmy Vadnais, OTR/L "What is Emotional Freedom Technique?"
EFT is a relatively simple technique that can be taught to children and adults. The practitioner guides a client to focus on words, thoughts, and emotional or physical feelings in the body and energy system related to their problem or challenge, while applying acupressure in the form of gentle touch or pressure, tapping on, or imagining touching on 14 major energy pathway points — the same found in acupuncture.
This is an Introductory Level Class that is available to Health Care Professionals and  anyone who wants to learn these techniques for their own self-care and personal development or to help others. These courses will enhance any Health Care Professionals skills who would like to bring a Mind-Body-Spirit, Prevention, and Wellness approach to Healing. Excellent for Occupational Therapists, Physical Therapists, Speech Therapists, Nurses, Physicians, Mental Health Practitioners, Massage Therapists, Yoga Practitioners, and any one caring for others.
Certificate of Completion
Health Care Professionals will receive a Certificate of Completion that may be submitted to your professional board for professional development credits. A completed course evaluation is required within 30 days of taking the class to receive a Certificate of Completion. This course meets the NBCOT requirement as a Professional Development Activity PDU ID #14.
Distant Learning
Distant Learning will meet via the internet or teleconference. You must have a working computer, high speed internet, web cam, microphone, and speakers. Once you have registered you will be instructed on how to connect. It really is easy!
Class Policy
Payment is due in full one week before the start of class. Refunds will not be given after the first class. You must attend each class to receive a Certificate of Completion. If you miss one class you will need to make it up with Emmy based on an hourly rate. If you miss more than one class in a series you will need to retake the entire level. Full refunds will be given if the entire class is cancelled by the instructor. Complaints can be handled with Emmy Vadnais, OTR/L.