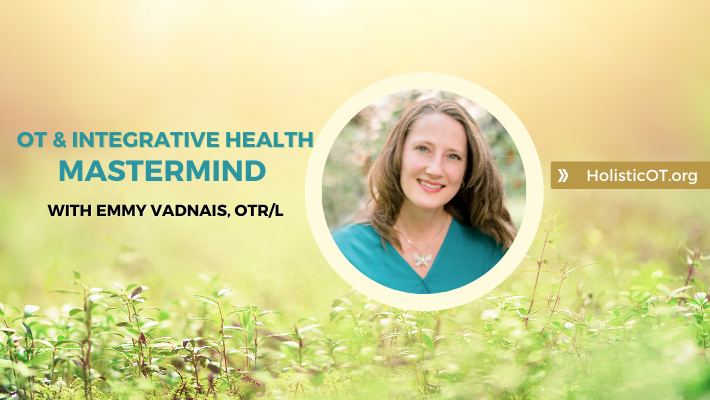 Coach: Emmy Vadnais, OTR/L
Dates: Recorded, six one-hour sessions
Location: Zoom Live Video
Price: $99 Full Holistic OT members, $159 non-members
This is a non-CE group as it is in a group coaching and discussion based model. 

Course Description
This six-week Mastermind group will give you support utilizing occupational therapy and integrative health in any setting. Each week a new topic will be addressed to give you the confidence to use integrative health for health, wellness, disease prevention, and self-care. Learn how OTs are the perfect profession for incorporating mind-body-spirit approaches with a holistic lens. Get support to apply integrative health in your own life for resiliency from burnout/moral injury. This class will be recorded. Live attendance is encouraged to receive the greatest benefits.
Mastermind Objectives
 Identify best integrative health approaches to use in various occupational therapy settings
2.  Enhance documentation skills for reimbursement
3.  Discuss latest evidence for OT and integrative health
4.  Enhance skills with health, wellness, and prevention
5.  Assist your clients to reach their goals utilizing integrative health techniques
6.  Learn how to incorporate integrative health into your own life for self-care and prevent or recover from burnout/moral injury