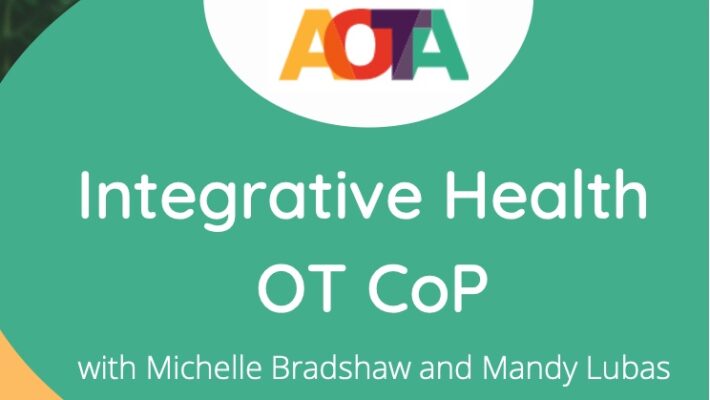 New Integrative Health OT Community with AOTA
The American Occupational Therapy Association (AOTA) has recently created the Integrative Health OT Community of Practice (IHOT CoP). 
IHOT CoP is a learning community that creates a space for members to expand their toolboxes and become agents of change in IHOT. We come together to explore the vast number of IHOT topics and the endless possibilities that we (as OT practitioners, educators, and students) can use to facilitate health and wellbeing in our own lives and the lives of our clients and students. To align with AOTA's mission for this group, we will avoid using this space for solicitation or self-promotion. We would love to have you join us!
Meetings are at 7pm EST on the 3rd Thursday of the month via Zoom. The next meeting, on February 17, is on the topic, "Discover Reiki, a Biofield Energy Modaility" with Rebecca Austill-Clausen, MS, OTR/L, FAOTA.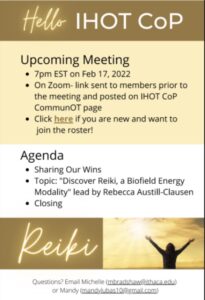 To Join the IHOT Group:
Complete this roster form

Once your AOTA membership number is confirmed, you will be added to the roster and the IHOT CommunOT page. 

A Zoom link for the meeting will be sent to the email on the roster form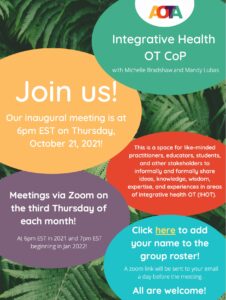 Thank you to Mandy Lubas, OTR/L, C-IAYT, AWC and Michelle Bradshaw, DC, OTR/L, for helping AOTA create this wonderful group that has been a long time coming!