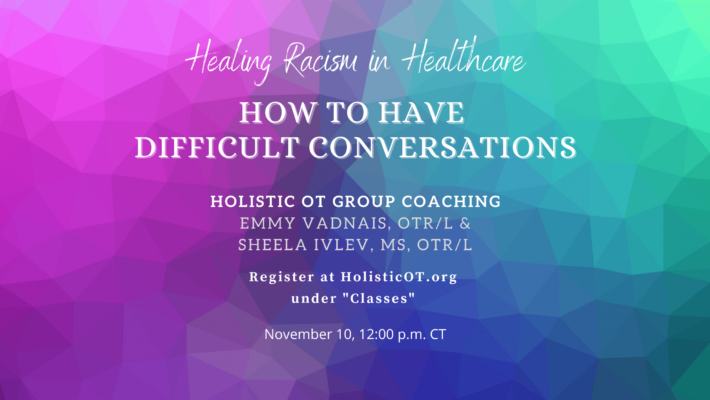 How to Have Difficult Conversations
Topic: How to Have Difficult Conversations––as part of our "Exploring Healing Racism in HealthCare" series
Host: Emmy Vadnais, OTR/L with Guest Speaker: Sheela Ivlev, MS, OTR/L
November 10, 2020 via Zoom 12:00 – 1:00 p.m. Central Time Live Online Video
Register Here Free for full members of the Holistic OT Community $25 for non-members
CEUs are not available for group coaching.
Are you an OT who would like to learn more about how to utilize OT and Integrative Health?
Bring your questions to the next Holistic OT Group Coaching or you can submit questions ahead of time to [email protected] This will be recorded if you are unable to make it in person. You will need to register ahead of time to receive the recording.
Join the group coaching with Emmy Vadnais, OTR/L who has been utilizing holistic/integrative health, wellness, and prevention approaches for 20 years. Learn more about Emmy here.