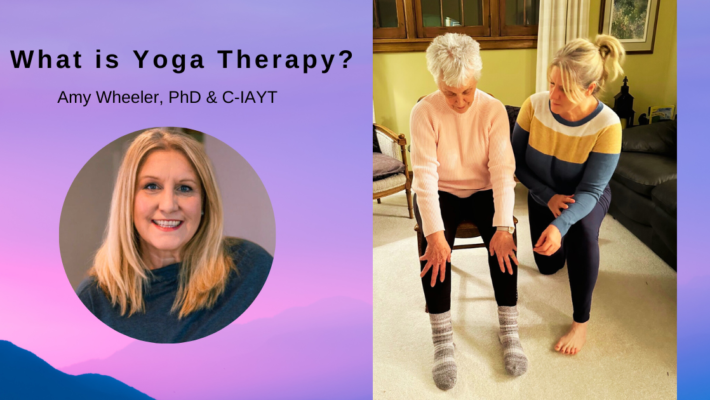 What is Yoga Therapy?
By Amy Wheeler, Ph.D. & C-IAYT
What is Yoga Therapy?
Yoga therapy is an integrative and personalized approach to wellness that combines the ancient wisdom of yoga with modern healthcare principles. It recognizes that each individual is unique and tailors therapeutic practices to address specific physical, mental, and emotional needs. Unlike traditional yoga classes, which often focus on general fitness, yoga therapy offers a holistic approach to healing. You can find out more about the emerging field of yoga therapy at The International Association of Yoga Therapy at IAYT.org. Highlights include how to become a Certified Yoga Therapist, the National Exam, Accreditation Standards and National Conferences twice a year.
Who Can Benefit from Yoga Therapy?
Yoga therapy is beneficial for a wide range of individuals, including those dealing with:
Physical ailments and chronic conditions
Stress, anxiety, and depression
Trauma and emotional imbalances
Chronic pain and musculoskeletal issues
Respiratory and digestive disorders
Neurological conditions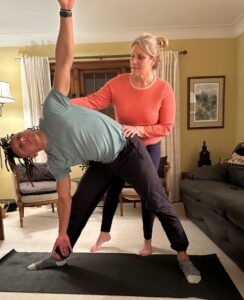 Skills Mastered by Yoga Therapists
Yoga therapists are trained to develop a unique set of skills that make them effective in facilitating healing and well-being:
Holistic Assessment: Yoga therapists assess clients' physical, mental, and emotional states to create personalized treatment plans.
Adaptability: They adapt traditional yoga practices to suit individual needs and abilities.
Mindfulness and Meditation: Yoga therapists incorporate mindfulness and meditation techniques to enhance mental well-being.
Breathwork: Mastery of pranayama (breathing exercises) to regulate the nervous system.
Empathy and Communication: Effective communication and empathy are vital for building trust and rapport with clients.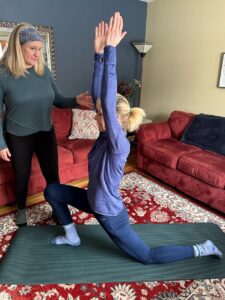 Professionals Who Benefit from Yoga Therapy Training
Yoga therapy training is not limited to yoga instructors; it can benefit various professionals, including:
Occupational Therapists (OTs) and Physical Therapists (PTs): Yoga therapy enhances their understanding of the mind-body connection and offers valuable tools for clients' physical and emotional rehabilitation.
Psychologists and Counselors: Integrating yoga therapy techniques can complement traditional therapy methods and promote mental well-being.
Healthcare Providers: Doctors and nurses can incorporate yoga therapy into their patients' treatment plans to improve overall health outcomes.
Emphasis on the Autonomic Nervous System (ANS) and Mental Health
One of the central focuses of yoga therapy is regulating the ANS. By balancing the sympathetic (fight or flight) and parasympathetic (rest and digest) branches of the ANS, yoga therapy aids in stress reduction, anxiety management, and overall mental health improvement. This emphasis on the ANS and mental well-being makes yoga therapy a valuable addition to the toolkit of holistic health professionals.
In conclusion, yoga therapy is a versatile and effective approach to well-being that benefits a wide range of individuals and professionals. By mastering the skills of holistic assessment, adaptability, mindfulness, breathwork, and empathy, yoga therapists offer a personalized path to healing. The emphasis on the autonomic nervous system and mental health underscores the profound impact of yoga therapy on overall wellness and highlights its relevance in today's healthcare landscape. We, at Optimal State Yoga Therapy Training School would love the opportunity to talk to you about becoming a yoga therapist.
---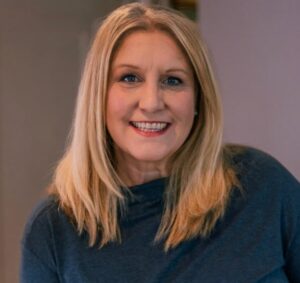 Amy Wheeler, Ph.D. & C-IAYT, is the Founder of Optimal State Yoga Therapy Training School. From 2018-2020, Amy served as the President of the Board of Directors to the International Association of Yoga Therapists (IAYT). Prior to this, Amy had served on the Board of Directors as Secretary for IAYT for 4 years.  Additionally, she helped to develop and define standards for Ayurvedic Yoga Therapists in the National Ayurvedic Medical Association (NAMA). Amy specializes in women's issues at all phases of life with emphasis on the endocrine system, nervous system, digestive system and structural kinesiology.Amy conducted many research studies on women's health as a Professor of Kinesiology for 25 years. Amy has been involved in developing numerous Yoga Therapy research projects and continues to work with researchers on protocol development.
Her Studies include:
1) Using Yoga Therapy to decrease symptoms associated with Metabolic Syndrome such as high blood pressure, obesity and diabetes.
2) Using Yoga Therapy as a tool to increase the effectiveness and positive experience associated with Kidney Dialysis treatments.
3) Using Yoga Therapy to lessen the negative impact of chemotherapy as it relates to treatment of Colon and Rectal, Ovarian and Uterine Cancer.
4) Using Yoga Therapy for the reduction and management of pain associated with recovery from lower back surgery, as well as decrease in repeat back surgeries.
Learn more at TheOptimalState.com and AmyWheeler.com.