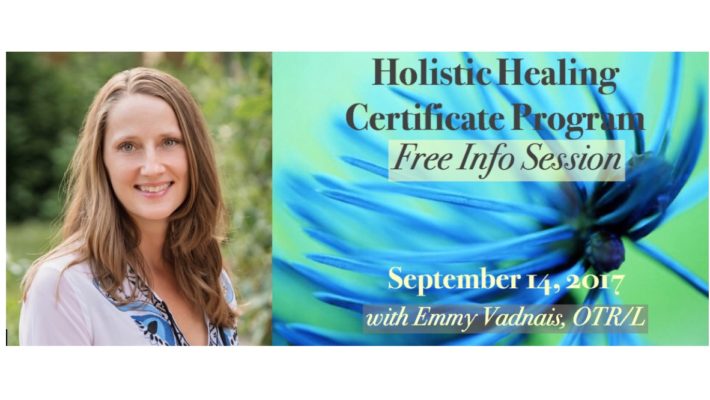 Free Info Session – Holistic Healing Certificate Program
The Holistic Healing Certificate Program will give you a strong experience and skills in Complementary & Integrative Health.
Register Here for the Free Info Session for September 14, 2017 at 7 p.m. Central Time
This program is designed to give you a strong theoretical and practical foundation of Holistic or Mind-Body-Spirit Healing, Prevention, and Wellness. The program is divided into two years. Courses available in person in St. Paul, MN and Distant Learning.
Learn more about the 2-year Holistic Healing Certificate Program taught by Emmy Vadnais, OTR/L, BCTMB, ARCB
Classes include:
The Power of the Mind in Healing: Foundations in Integrative Medicine
Energy Healing: Auras, Chakras, & Meridians
Guided Meditation: Imagery & Healing
Interactive Mindfulness Meditation: Emotion & Healing
Holistic Healing in Practice
These courses are available to Health Care Professionals and anyone who wants to learn these techniques for their own self-care and personal development or to help others. These courses will enhance any Health Care Professionals skills who would like to bring a Mind-Body-Spirit, Prevention, and Wellness approach to Healing. Excellent for Occupational Therapists, Physical Therapists, Speech Therapists, Nurses, Physicians, Mental Health Practitioners, Massage Therapists, Yoga Practitioners, and any one caring for others.