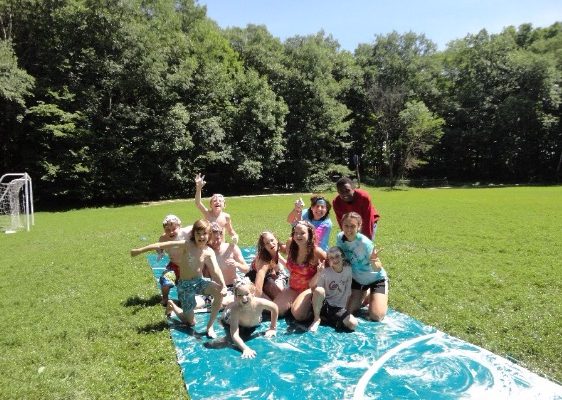 Holistic Summer Camp: An Intensive Mentorship Model for Sensory Integration
by Jaymie Merry, MS, OTR/L
Camp Avanti is an intensive program for children ages 6 to 15 who have learning disabilities and/or sensory processing dysfunction provided in a camp setting. Developed by Patricia Wilbarger (M.Ed., OTR/L, FAOTA) in 1983, the Avanti model holistically blends occupational performance in a natural environment with sensory integrative (SI) intervention, allowing children to develop competence across their occupational roles as camper, team member, and friend. Camp Avanti also offers a rigorous mentorship program that allows therapists to be immersed in camp culture, living with and learning from leading professionals in SI practice.
Holistic Model for Sensory Integration in the Life Context
Sensory integration is the organization of sensation for use in adaptive functioning within one's environment (Ayres, 1972). If a child has difficulty processing information from his/her body and from the environment efficiently and effectively, as well as organizing this information for functional use, the child's ability to function within their physical and social environments may be impacted. Occupational therapists using a sensory integrative approach use intervention to provide opportunities to enhance the processing and organization of sensory inputs to produce an adaptive response, with the goal of optimizing the client's ability to function in their life environments and occupations.
The Avanti Model is a holistic model for sensory integrative treatment provided in the context of childhood occupations and a natural environment. The unique combination of treatment, the camping environment, and therapeutically designed activities make Camp Avanti a powerful tool to enhance a child's social, emotional, and physical development.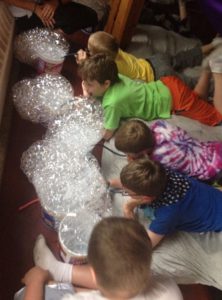 Structure of Camp
Campers engage in a 6-day, 5-night sleep-away experience located at a YMCA camp in the Wisconsin wilderness adjacent to a scenic fresh water lake. The campers are broken up into 6 to 7 cabin groups, based on age and gender, consisting of 6 campers and 3 YMCA counselors. Each day, campers participate in structured camp activities therapeutically designed to enhance the occupational roles of children. There is a strong focus on play, as play is the foundation for the practice and development of a child's occupational roles. Daily activities include therapeutic horseback riding, rock climbing, swimming and canoeing, crafts, target sports, and field games.
In addition, each day campers engage in 45 minutes of individualized sensory integrative therapy in a specially designed motor room equipped with suspended equipment, dynamic surfaces, and climbing structures. Activities in the motor room are designed and facilitated by the staff occupational therapists. Daily tasks also promote a balance of work and play, as campers are responsible for their own activities of daily of living, as well as group tasks including meal preparation, serving, and cleanup and cabin cleanliness.
Each cabin is assigned two occupational therapists who are responsible for the therapeutic programming for each camper in that cabin. The structure of the camp provides around the clock opportunities for intervention, from activities of daily living in the morning to mealtime preparation and feeding to sleep-wake cycles, which maximizes on the power of intensity to change the nervous system. Individualized and specialized intervention strategies are infused into the day to support each camper's successful participation in the camp experience. These strategies include individualized sensory diets incorporating vestibular, proprioceptive, and tactile inputs, the Wilbarger Therapressure protocol, sound therapies, cranial sacral therapy, Kinesio taping, and oral motor strategies. In addition to these tools, all therapists and staff are responsible for providing acceptance of each camper's unique qualities, acknowledging their strengths and talents, and providing opportunities to set them up for success.
The changes that are made over the course of the week are unique to each camper, as the camp experience meets each child where they are at and supports their individual goals and development. Camp provides an emotionally, physically, and spiritually safe place for campers, which helps to facilitate self-regulation, optimal attending, and task follow through, in addition to improving development of sensory-motor foundations and motor skills. Increased confidence, developing friendships, independence in daily activities, and willingness to try something new and take risks are common changes seen among campers over the course of the week.
Occupational Therapists at Camp Avanti
Occupational therapists from around the world, each with their own set of unique skills and experiences, volunteer their time to work camp. For one week each year, they commit to fully focus their time and energy on practice and learning with camaraderie provided by others who have made that same commitment. The occupational therapists working at camp take on many roles throughout the week. In the cabin, the role of therapist blends with the roles of family member, nurturer, protector, resource, and role model, depending on the situation. Therapists also take on the role of professional learner, in that they are constantly working collaboratively with each other for joint evaluation and treatment planning. Each therapist brings a wealth of knowledge and tools to camp and therefore learning and growth come through teaching and being taught by colleagues, all at different points in their therapy journeys. Therapists tend to leave camp with an experience that often shifts the way they view traditional therapy, re-entering their work place with fresh mindset emphasizing flexibility, collaboration, and creativity.
Practicum Program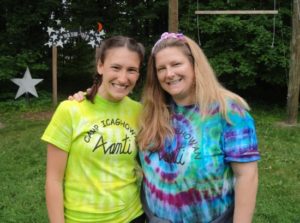 Each year, accepted therapists who are new to camp participate in the practicum program, which allows therapists to be immersed in the camp culture, learning and experiencing the Avanti model. Practicum therapists receive daily lectures from experts in the field of sensory integration, totaling 15-20 hours over the course of the week. In past years, lecturers have included Patricia Wilbarger MEd, OTR, FAOTA, Julia Wilbarger Ph.D., OTR/L, Patricia Oetter MA, OTR/L, FAOTA, Eileen Richter MPH, OTR/L, FAOTA, and Genevieve Jereb, OTR, among others. Practicum therapists are also placed with a cabin family, where they learn from hands on experience working side by side with experienced Avanti therapists. Therapists hone their skills in developing individualized sensory-motor programs, as well as how to collaboratively infuse these strategies into the natural routines of the campers in order to allow successful participation in the camp experience, as well as growth in meaningful and functional occupations (Erhardt, 2014). The unique professional growth that takes place at Camp Avanti, as well as experiencing the profound progress that the children can make in a matter of days (Kinnealey, Koenig, & Eichelberger, 1999), can give therapists a new therapeutic mindset emphasizing teamwork, flexibility, and creativity.
Practicum Therapist Experiences
"Camp Avanti provides an incredible practicum therapist experience!  It is very powerful being surrounded by so many knowledgeable and passionate OTs all working together to provide a spectacular camp experience. You leave camp with so many new tools in your toolbox that you can start using right away. It's an opportunity like no other that has positively impacted my ability to provide sensational therapy!" – Gretchen, 2015 Practicum Therapist




"Professionally, the course was rich with information. I was surrounded by people who were truly welcoming to me. The key element that I took from Camp Avanti was the level of dedication and passion the other members of staff had. Being part of a team brimming with enthusiasm and excitement was contagious; I took that buzz of energy back into my practice and still maintain that up until now.  I fully understand why so many therapists return back to the camp year after year." – Rachel, 2015 Practicum Therapist
When: Annually, Week of July 4th
Where: YMCA Camp Icaghowan, 899 A 115th Street Amery, WI 54001
Website: www.campavanti.com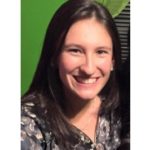 Jaymie Merry, MS, OTR/L currently serves on the Board of Directors as Secretary for Camp Avanti. Jaymie works at OTA The Koomar Center in Boston, MA, an outpatient sensory integration clinic. Contact her at [email protected].