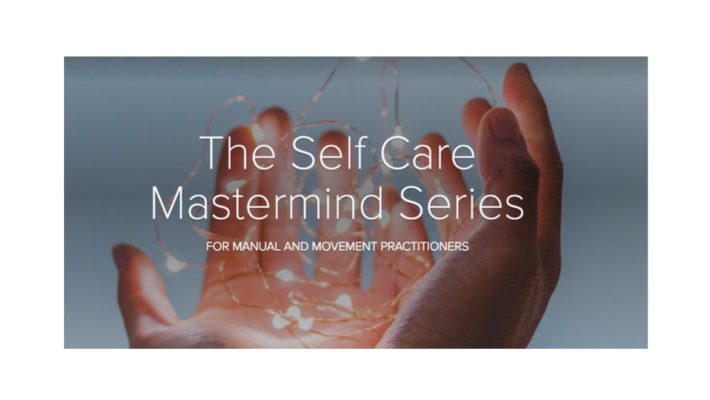 The Self Care Master Mind Series
The Self Care Master Mind Series with Kelly Clancy, OTR/L, CHT
WHEN:
Begins May 7, 2019 – Class will meet online from 7-8:30PST on the first Tuesday of each month. This is an ongoing subscription series with monthly meetings.
WHERE:
Online – on easy to use learning platform (all directions for access to be supplied after registration)

WHAT DOES IT INCLUDE
Monthly recorded webinars
Monthly teleconference meetings 1 ½- 2 hours in length with Kelly and class participants
Access to private discussion forum where ideas, articles, podcasts, discussions will be shared in between meetings
HOW MUCH?
$50.00 per month (6 month commitment required)
20% off for Holistic OT Members become a full member here
This group has been created as a means to empower each other as therapists in building a community that is a safe container for support and resources. One where we can share ideas, learn about self care practices that will support our personal lives, business practices and our relationship in our communities. We will meet monthly once a month online during a recorded call to discuss a particular topic of the month. Kelly will record a vlog about the topic and we will use a private discussion forum between classes to ask questions, share resources, and comment about our own personal practices.
WHO WOULD BENEFIT FROM THIS GROUP?
All health care practitioners who are interested in exploring what it means to be human, live in these bodies, see how the mind influences the body-how the body influences the mind.
The practitioner who is willing to dive deeper into their own personal journey to enrich their lives and to use their personal exploration to inform the practice of their own work in the world.
It is for the practitioner who is seeking and wanting to be part of a like minded community, willing to ask for, receive, and provide support to others in a safe supportive enriching group.
This mastermind group will meet online monthly. I will present a recorded webinar on the topic and we will follow it with a 'live' teleconference where everyone can contribute. This will be recorded if you are unable to attend during the session. There will resources that will be available about the topics covered, a private discussion board where we can expand on the ideas related to our own lives and work. We will have homework around exploration of themes, and will commit to setting aside our soul's time to be, to explore, to journal, to invite an expansion of our commitment to this way of being in the world.
MORE QUESTIONS?
Feel free to contact Harley for questions about this exciting new offering. You can reach her at [email protected]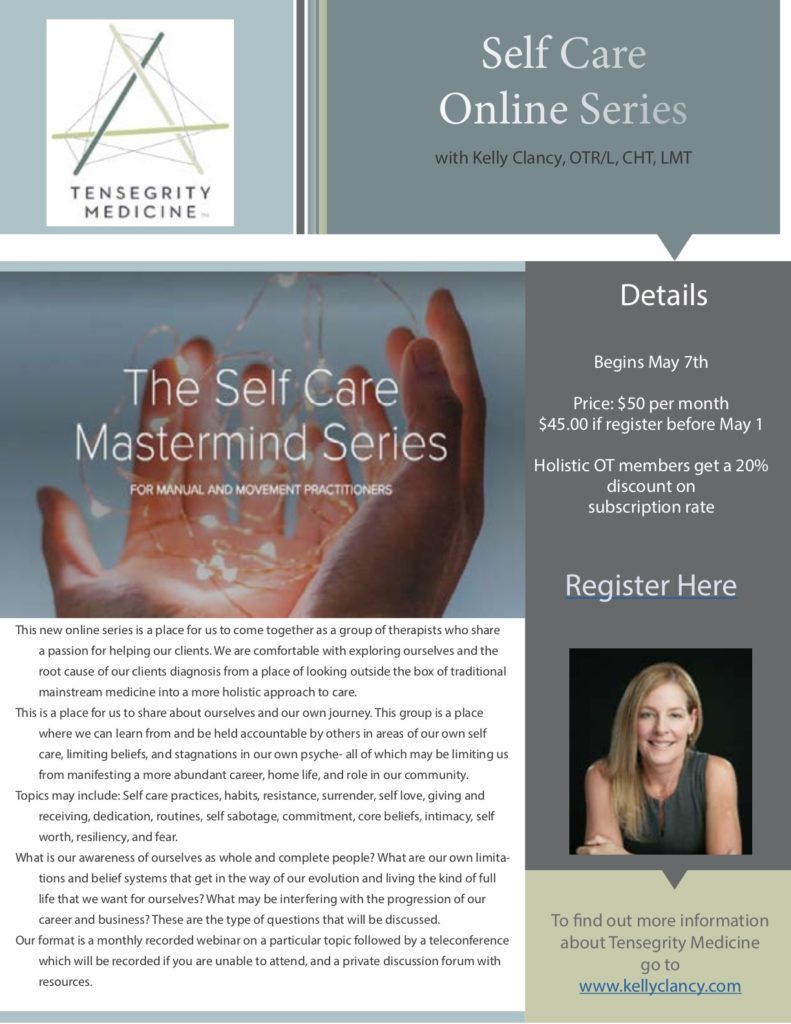 WHAT IS A MASTERMIND GROUP?
A mastermind group offers a combination of brainstorming, education, peer accountability and support in a group setting to sharpen business and personal skills. Participants challenge each other to set powerful goals, and more importantly, to accomplish them.
The group helps you with creative ideas and wise decision-making about self care practices. Then as you begin to implement your plan, you bring both success stories and struggles to the group. Success stories are applauded (loudly!), and problems are solved through peer brainstorming and collective, creative thinking.
The group requires commitment, confidentiality, and willingness to both give and receive support to each other with honesty, respect and compassion. Mastermind group members act as catalysts for growth, devil's advocates and supportive colleagues. This is the essence and value of mastermind groups.
Each meeting has an agenda so that conversations stay on course. The facilitator makes sure that conversations are deep and balanced, and that all mastermind group meeting agenda items are covered in the time allotted.
Visit KellyClancy.com