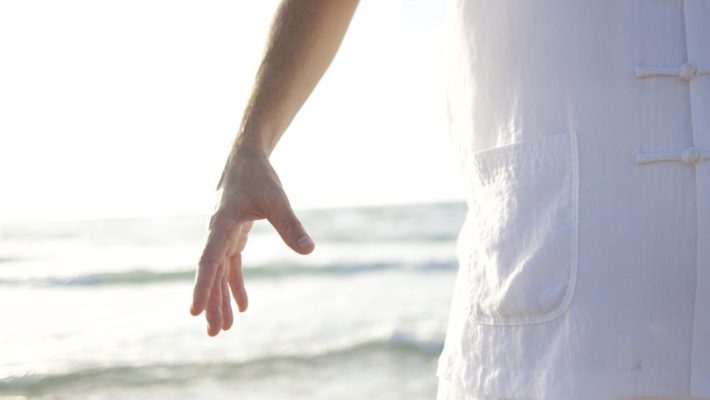 Tai Chi for Fall Prevention
By Michael Gagliano, OT/L, Tauni Malmgren, OT/S, and Emmy Vadnais, OTR/L
Falls are the leading cause of injury-related morbidity and mortality among older adults aged 65+ in the United States. In 2014 alone, there were 29 million falls where 37.5% of those falls required medical treatment or restricted activity for a day or longer. In 2015, there were an estimated 33,000 fall-related deaths.¹
As health care professionals grapple with how to address this challenge, we look to evidence based practice to best inform our work. As it turns out, one of the most effective interventions to address fall prevention in older adults has been around for centuries. It is called tai chi, a graceful form of exercise that originated from martial arts where a sequence of movements is performed in a gentle, flowing manner accompanied by deep breathing and concentration.²
About Tai Chi
Tai chi is a complex therapeutic art involving mind, body, and spirit originating in ancient China. There are a variety of tai chi styles that have the same essential principles: mind integrated with the body, control of movements and breathing, generating internal energy, mindfulness, song (loosening 松), and jing (serenity 静). Tai chi seeks to move qi—氣 or life energy—so that it flows smoothly and powerfully through the body. In the holistic view of tai chi, total harmony can be achieved from the integrations of mind and body with healthy qi.³
Tai chi is a complex art that can be thought of as part meditation and part exercise. It is characterized by flowing movements and seeks to convert universal life energy into jing—勁 or internal force—to increase internal energy. The benefits include a balanced mental state with physical benefits such as strength, flexibility, agility, and balance. Since a person doing tai chi is working on building internal force, "internal means building the inner strength from inside out, therefore you can continue to develop at any age."³
Tai Chi in OT Practice
Both tai chi and adapted tai chi programming can be a useful tool for rehabilitation specialists to help clients address mental, physical, and spiritual components that contribute to fall prevention. A Holistic OT Community Practitioner Michael Gagliano, OT/L has created a video addressing two important concepts in tai chi for fall prevention: a grounded stance and walking exercise. If you are interested in learning more about Michael's practice, please visit our practitioner directory.
How to Strengthen Your Balance with Tai Chi
Summary of Research
When researching ways to address fall prevention in the older adult population, one quickly sees that tai chi is among the most effective exercises available. One study found that tai chi was the most effective in addressing poor balance associated with neurological gait disorders and mobility problems. Poor balance affects 11.5 million older adults, and tai chi averted 62,158 falls in one year, resulting in an estimated $228 million USD savings. What's more, mobility problems affect 13.31 million older adults, and tai chi averted 32,212 falls, resulting in an estimated $315 million USD savings.⁴
Another study compared therapeutically tailored tai chi intervention called Tai Ji Quan: Moving for Better Balance (TJQMBB) with a multimodal exercise program (MME) and found that clients had 31% fewer falls in TJQMBB compared with MME. This means that clients in the TJQMBB group showed significantly lower incidence of falls than clients in the MME group.⁵
Other Complementary and Integrative Health Techniques Can Help with Fall Prevention
Interested in other complementary and integrative health techniques that can address fall prevention? Yoga has been been shown to have a positive effect on performance skills involved in fall prevention such as increased balance and step length as well as decreased fear of falling, though there is further research to be done.⁶⁷ Research also suggests that certain forms of meditation can be an effective strategy for preventing falls.⁸ Have complementary and integrative health techniques helped you reduce falls? If so, we would love to hear from you in the comments.
References:
Guirguis-Blake, J. M., Michael, Y. L., Perdue, L. A., Coppola, E. L., & Beil, T. L. (2018). Interventions to prevent falls in older adults updated evidence report and systematic review for the US Preventive Services Task Force. JAMA, 319(16): 1705-1716. doi: 10.1001/jama.2017.21962.
2. Why try tai chi? (2018, September 26). Retrieved from https://www.mayoclinic.org/healthy-lifestyle/stress-management/in-depth/tai-chi/art-20045184
3. Tai Chi for Health Institute. (n.d.). What is Tai Chi? Retrieved from https://taichiforhealthinstitute.org/what-is-tai-chi/
4. Stevens, J. A. & Lee, R. (2018). The potential to reduce falls and avert costs by clinically managing fall risk. American Journal of Preventative Medicine, 55(3): 290-297. doi: 10.1016/j.amepre.2018.04.035
5. Fuzhong, L., Harmer, P., Fitzgerald, K., Eckstrom, E., Akers, L., Chou, L.,… Winters-Stone, K. (2018). Effectiveness of a therapeutic Tai Ji Quan intervention vs a multimodal excercise intervention to prevent falls among older adults at high risk of falling: a randomized clinical trial. JAMA Internal Medicine, 178(10): 1301-1310. doi: 10.1001/jamainternmed.2018.3915.
6. Keay, L., Praveen, D., Salam, A., Rajasekhar, K. V., Tiedemann, A., Thomas, V.,… & Ivers, R. Q. (2018). A mixed methods evaluation of yoga as a fall prevention strategy for older people in India. Pilot Feasibility Study, 4: 74. doi: 10.1186/s40814-018
7. Tiedemann, A., O'Rourke, S., Sesto, R., & Sherrington, C. (2013). A 12-week Iyengar yoga program improved balance and mobility in older community-dwelling people: a pilot randomized control trial. The Journals of Gerontology. Series A, Biological Sciences and Medical Sciences, 68(9): 1068-1075. doi: 10.1093/gerona/glt087
8. Chang, M. Y., Lin, C. L., Wu, T. M., Huang, T. H., & Chen, H. Y. (2013). Eight forms of moving meditation for preventing falls in community-dwelling middle-aged and older adults. Forschende Komplementärmedizin, 20(5): 345-352. doi: 10.1159/000355842