Positive EFT for Positive Health
I recently completed a training in a form of Emotional Freedom Technique (EFT) called Positive EFT by Sandra Hillawi through the Association for Energy & Meridian Therapies. Bringing in positive energy can bring in good feelings, energy, light, love, and acknowledgement that you need in the moment, the past, or the future. It can lower stress and creates insights for healing, and creative solutions.
Emotional Freedom Technique (EFT) combines energy psychology and acupressure to alleviate physical, mental, emotional, and spiritual symptoms and reach positive goals. EFT is an efficacy-based practice according to the American Psychological Association. Several studies have shown statistical significance with lowering stress, physical and emotional pain, anxiety, depression, and post-traumatic stress syndrome. More research is underway as case studies show additional benefits.
EFT is a relatively simple technique that can be taught to children and adults. The practitioner guides a client to focus on words, thoughts, and emotional or physical feelings in the body and energy system related to their problem or challenge, while applying acupressure in the form of gentle touch or pressure, tapping on, or imagining touching on 14 major energy pathway points — the same found in acupuncture.
There are many forms and styles of EFT. The classic process involves having the client rate their negative emotional or physical challenge on a scale from zero to 10, with 10 the highest and zero when the problem is gone. They then tap while focusing on distressing thoughts or feelings while saying, "Even though I have (insert negative thought or feeling), I deeply and completely love and accept myself." When working with a child, for example, they might say, "Even though I have a tummy ache, I am still a good boy/girl."
Silvia Hartmann created the Heart and Soul method, in which the client first rates their area of focus on the Subjective Unit of Experience Scale (SUE). This scale includes positive and negative feelings. The scale runs from minus -10 to zero to a positive +10. Then, the client places their hands over your heart center, and repeats the words that are related to the challenge or positive outcome desired.
Positive EFT asks the individual simple questions to create positive energy around a situation they would like improved, such as, "What do you need to feel better?", "What do you need to manage_____?", "How would you like to feel?", "What else do you need?" You can also draw upon the feeling, energy, or essence of a color, plant, animal, special powers, or a positive feeling you had in the past, and any other positive you can think of. You can tap for a group, family, team, or relationship with questions like, "What do we want from our group?" or "What does this relationship need to achieve ______?"
Children can also benefit from Positive EFT with questions like, "What magical power would help you feel better?", "What super-hero power would help you at school?", or "What would make you happy right now?" Even if the desired object or feeling isn't present you can guide the child to imagine the qualities of the special power or how they would feel if they had it.
For example, I guided a woman who was having worry about an upcoming event in her life. I asked her what her future self needed, and she replied that she needed "trust, faith, and surrender." We did just a couple of rounds tapping on the acupoints, and she went from a -4/10 to a +7/10. Now that's magical!
Consider using EFT for yourself of a loved one. It can lower energy body stress and increase flow, love, and healing. It is best to receive guidance from a practitioner trained in EFT. It is a skill you can then integrate into your life for health, wellness, and prevention.
References
Vadnais, E. (2014, April 18). What is Emotional Freedom Technique? Combining Energy Psychology and Acupressure to Enhance OT Practice. ADVANCE Magazine for Occupational Therapy Practitioners.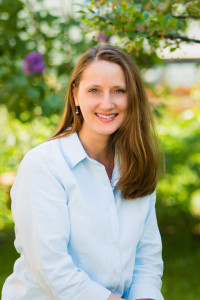 Emmy Vadnais, OTR/L is a Holistic OT and is a certified EFT Trainer and Practitioner through the Association for Energy & Meridian Therapies. She conducts individual healing sessions, EFT and Energy Healing classes. She can be contacted at [email protected].