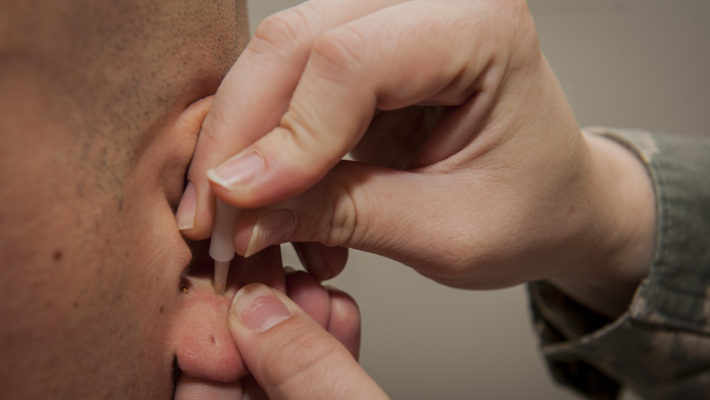 OT and NADA Protocol for Addiction
By Tauni Malmgren, OTS
Overview of the role of occupational therapy in substance use disorder
An occupational therapist (OT) will likely see clients with substance use disorder (SUD) regardless of the setting that they work in. The 2016 National Survey on Drug Use and Health (NSDUH) found that in the United States, 20.1 million people, or 7.5% of the population, have SUD while 11.8 million people, or 4.4% of the population, misuse opioids.
Many healthcare professionals are seeking to understand and treat SUD, specifically the opioid crisis. The Canadian Association of Occupational Therapists (CAOT) defines substance use to be problematic when a person uses alcohol, mood-altering drugs, pharmaceuticals, and other substances in an excessive amount. The occupation of excessive substance use eventually limits and compromises their choice in occupations leading to a decreased well-being.  Moreover, the Canadian Centre on Substance Abuse reports that the social cost of SUD is $39.8 billion dollars due to healthcare and law enforcement expenses as well as the loss of productivity in both the workplace and home due to disability and early death.
Traditionally, OTs working with SUD can help educate their clients about their disorder, establish healthy patterns and routines, and explore meaningful activities and roles that promote better health. Given that this is an emerging practice area, therapists are looking for tools and strategies to use in treatment. One of these tools is a standard protocol of acupuncture set forth by the National Acupuncture Detoxification Association (NADA). This form of acupuncture—called acudetox or NADA protocol—is available to all healthcare professionals. OTs can use it as either a preparatory method or treatment modality to improve participation and therapeutic outcomes.
Can occupational therapists provide acupuncture services?
Occupational therapists can incorporate acupuncture referrals into their treatment plan to address SUD symptoms such as anxiety and withdrawal, but can they perform the treatment? Typically, an acupuncturist has an advanced degree and treats a variety of conditions. They may be licensed, certified, or registered by government and professional organizations such as the National Certification Commission on Acupuncture and Oriental Medicine. OTs can refer clients to acupuncturists when they feel it is necessary, but they can also provide the benefits of acupuncture quickly and easily to clients with SUD utilizing NADA protocol. After special training, an OT can perform bilateral manual needling through a standardized 3 to 5-point auricular (i.e., ear) acupuncture procedure, providing a holistic, client-centered, and non-reductionist treatment option.
The American Occupational Therapy Association (AOTA) does not have an official stance on NADA protocol or acupuncture in general, but it seems to have conflicting information. While AOTA does not consider dry needling to be in the OT domain of practice, the complementary health approaches and integrative health (CHAIH) position paper recognizes that acupuncture is a beneficial and evidence based practice that can be incorporated into treatment. Ultimately, NADA protocol is regulated by state, so it is up to the individual OT to familiarize themselves with AOTA's current stance on the issue and review state laws. If an OT has any questions, they can contact their state review boards or agencies for specific questions. 
History of NADA Protocol
Many healthcare providers and community members developed auricular acupuncture for addiction in the 1970's, but Micheal Smith, MD, DAc, formalized NADA protocol points in 1985. Currently, NADA protocol is used widely throughout multiple disciplines and settings, despite inconsistent and retroactive research. NADA itself is a non-profit advocacy group training healthcare providers to perform a standardized auricular acupuncture treatment for a myriad of mental health issues, including those related to SUD.
How to Perform NADA Protocol
In order to become a NADA practitioner, OTs must complete an acudetox training with a registered trainer to earn a certificate of training as an Acupuncture Detoxification Specialist (ADS). Typically, therapists can attend trainings through both public and private organizations like schools, health centers, private practices, and more. 
Once an occupational therapist completes training, they are proficient in treating five auricular points: sympathetic, "Shen Men," kidney, liver, and lung. Researchers say that the five points provide balance and nourishment of yin energy, essentially treating the Eastern diagnosis of yin deficiency, or "empty fire," and the Western diagnosis of mental health issues.
According to Acupuncture Today, a typical treatment should take 30-45 minutes and be performed sitting in a group to increase social participation. It also should be delivered often in a quiet, comfortable area where all clients are treated equally in order to overcome negative feelings like denial. Clients can also opt for the application of Vaccaria seeds or magnetized beads if they are feeling fearful or sensitive of n 
NADA protocol as a physical agent modality
One way to incorporate NADA protocol into OT practice would be as a physical agent modality (PAM). According to AOTA, "physical agent modalities are those procedures and interventions that are systematically applied to modify specific client factors when neurological, musculoskeletal, or skin conditions are present that may be limiting occupational performance." Typically, OTs use PAMs as either therapy preparation or during purposeful and occupation-based activities, and they are always be a part of a larger OT plan because the use of a PAM alone does not qualify as an OT intervention. Since AOTA requires OTs to show verifiable competence to perform PAMS, successful completion of NADA protocol training is important.
NADA protocol as complementary and integrative health
According to AOTA, CHAIH treatments such as acupuncture "may be used responsibly by competent practitioners to enrich clients' participation in meaningful life roles" as long as the therapist maintains the training, credentials, and licenses necessary to show verifiable competence in healing modalities that fall outside the scope of occupational therapy practice. Once a therapist takes these special precautions, AOTA gives the green light, saying "evidence-based CHAIH may be used as preparatory methods, tasks, occupations, and activities when supporting active engagement and participation in meaningful occupations." This means that NADA protocol may be used as a preparatory method to address symptoms of SUD before a treatment session. It can also be used during specific tasks or activities performed by clients with SUD to support active engagement and participation in the occupations that they find meaningful.
NADA legislation
According to Acupuncture Today, there are several thousand NADA-trained practitioners worldwide. Since NADA protocol is regulated at the state level, the NADA website provides in-depth information about NADA protocol regulations by state:  
Arizona, Arkansas, Colorado, Connecticut, Delaware, Georgia, Indiana, Louisiana, Maryland, Michigan, Missouri, New Hampshire, New Mexico, New York, Ontario, Rhode Island, South Carolina, Tennessee, Texas, Vermont, Virginia, and Wyoming all have specific laws regulating NADA protocol. To see state-specific information,

visit the NADA website

.

North Carolina, Ohio and Washington have more complex rules about NADA protocol and mostly give nurses, nurse practitioners (NP), and physicians' assistants (PA) the ability to practice under physician delegation. For 

more information,

visit the NADA website

.

Alabama, Oklahoma, and South Dakota do not regulate the practice of acupuncture.

Certain Canadian provinces do not regulate the practice of acupuncture.

Alberta, Manitoba, New Brunswick, Newfoundland, Northwest Territories, Nova Scotia, Nunavut Territory, Prince Edward Island, Saskatchewan, and Yukon Territory have no NADA-related legislation, but there are NADA members in these areas.

For states not listed above, NADA protocol is restricted to licensed acupuncturists or providers (e.g., medical doctors) eligible to practice acupuncture.
The future of NADA
Researchers advocating for NADA protocol say that it facilitates better client access to treatment, so they will continue to advocate for legislative changes that support the use of NADA protocol. For OTs that incorporate complementary and integrative health into their practice, becoming certified in this protocol could be an exciting avenue to pursue as they solidify their role in the treatment of addiction.
Want more information? Check out these resources.
2016 NSDUH REPORT: AMERICA'S BEHAVIORAL HEALTH CHANGES & CHALLENGES [PDF]. (2016). Substance Abuse and Mental Health Services Administration (SAMHSA). Retrieved on July 13, 2018 from https://www.samhsa.gov/sites/default/files/topics/data_outcomes_quality/nsduh-ppt-09-2017.pdf
5 Things To Know About Mind and Body Approaches for Substance Use Disorders. (2018, May 23). Retrieved on July 13, 2018 from https://nccih.nih.gov/health/tips/Substance-Disorders
Bondi, M. (n.d.). FAQ. Retrieved on July 13, 2018 from https://www.acudetox.com/about-nada/faq
Carter, K., Olshan-Perlmutter, M., Marx, J., Martini, J. F., & Cairns, S. B., (2017). NADA ear acupuncture: an adjunctive therapy to improve and maintain positive outcomes in substance abuse treatment. Behavior Science (Basel), 7(2): p. 37. doi: 10.3390/bs7020037
Creek, J., Lougher, L., & Bruggen, H. V. (2011). Occupational therapy and mental health. Edinburgh: Churchill Livingstone/Elsevier.
The American Occupational Therapy Association (AOTA). (2012). Physical Agent Modalities. American Journal of Occupational Therapy, 66(6_Supplement): p. S78-S80. doi: 10.5014/ajot.2012.66S78.
The American Occupational Therapy Association (AOTA). (2017). Occupational Therapy and Complementary Health Approaches and Integrative Health. American Journal of Occupational Therapy, 71(Supplement_2): p. 7112410020p1-7112410020p6. doi: 10.5014/ajot.2017.716S08.
Occupational Therapy and Substance Use [PDF]. (n.d.). Canadian Association of Occupational Therapists. Retrieved on July 29, 2018 from https://www.caot.ca/document/4075/Substance%20Use%20-%20Fact%20Sheet.pdf
Practice Response: Dry Needling in Occupational Therapy Practice. (2017, September 6). Retrieved July 27, 2018, from https://www.aota.org/Practice/Manage/Scope-of-Practice-QA/dry-needling.aspx
Stuyt, E. B. & Voyles, C. A. (2016). The National Acupuncture Detoxification Association protocol, auricular acupuncture to support patients with substance abuse and behavioral health disorders: current perspectives. Substance Abuse and Rehabilitation, 7: 169-180. doi: 10.2147/SAR.S99161
Stuyt, E. B., Voyles, C. A., & Bursac, S. (2018). NADA Protocol for behavioral health. Putting tools in the hands of behavioral health providers: the case for auricular detoxification specialists. Medicines, 5(20): 1-12. doi: 10.3390/medicines5010020
The NADA Protocol. (n.d.). Retrieved on July 13, 2018 from from https://www.acupuncturetoday.com/abc/nadaprotocol.php