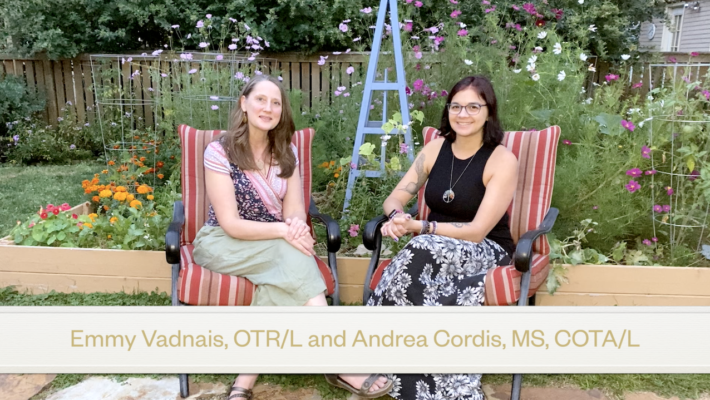 Occupational Therapy: Integrative Health Insights
Emmy Vadnais, OTR/L and Andrea Cordis, MS, COTA/L share insights about how occupational therapy and integrative health have improved their lives and the clients they serve.
They provide tips and suggestions to OT practitioners to gain skills and confidence in this practice area. Watch 11-minute video here.
Classes
Browse HolisticOT.org for more information about how you can combine integrative health, wellness, and prevention in your occupational therapy practice. Learn more about continuing education classes under "Classes." Receive support for your holistic health practice.
Andrea Cordis, MS, OTR/L, is a Level II Fieldwork Clinical Assistant and OT practitioner in an inpatient rehab setting. She is a Yoga teacher, Tai Chi Exercise Instructor, and Reiki Master. She graduated from Bay Path College with an AS in occupational therapy in 2003. She then received a BS in Health Sciences and an MS in Higher Education Administration, both from Bay Path University. Over the years, she has worked as a COTA in home health, skilled nursing, inpatient rehab, inpatient and community-based mental health. Her OT passion is wellness and mental health, where she incorporates holistic practices. Andrea also teaches tai chi and trauma-informed yoga. Outside of work, Andrea enjoys traveling, baking, hiking, and being near the ocean.
Coaching with Emmy
Are you looking for support with your holistic practice? Get unstuck and move forward with your goals with support from a professional with over 20 years experience in holistic health, wellness, and prevention in private practice and a variety of settings. Learn more here.