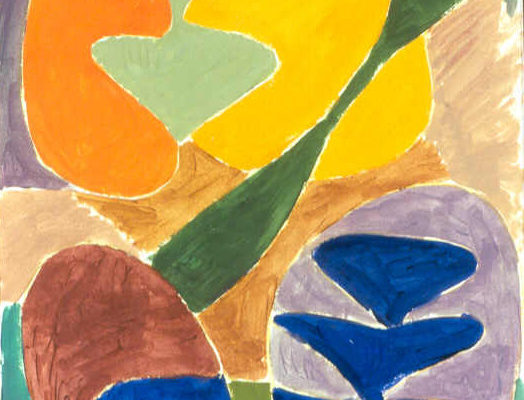 Meet a HOT Practitioner: Sharon Hicks
HolisticOT.org has a growing online community comprised of highly skilled holistic practitioners who integrate mind, body, spirit medicine, prevention, and wellness into their practice.
Join us as we learn more about a holistic occupational therapist in our practitioner directory. We feature our members so folks can become better acquainted with what Holistic OT is all about and how it can be helpful for health and healing.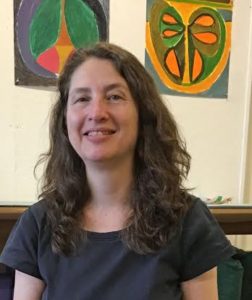 Meet Sharon Hicks, OTR/L
Sharon Hicks, OTR/L began her career as a fine artist, and she brings that same creativity and thoughtfulness to her healing practice. She implores her patients to "consider the possibility of living life as art." Her diverse experience has led her to provide yoga programs for folks with Parkinson's Disease as well as women recovering from breast cancer. She has also collaborated with optometrists to develop vision therapies.
Sharon treats patients in both hospital and private settings, offering many holistic healing modalities including yoga, relaxation techniques, color light therapy, Zero Balancing, and aromatherapy. She has been a member of the Holistic OT community for some time now, and we are grateful for her experience and wisdom. Let's take a moment to learn more about Sharon.
How long you have been an OT?
I have been an OT since 2009. Occupational therapy is my second or third career. My undergraduate degree was in fine art. I entered the field of helping others as a vision therapist, and later became certified as a yoga teacher – So, I was already a holistic practitioner when I decided to go back to school for occupational therapy. I chose OT because it is holistic in nature and I knew I could integrate my background skills into my work as an OT.
At what point did you incorporate holistic healing into your practice? 
I incorporated holistic healing into OT practice with my very first occupational therapy patient. It was a patient with Parkinson's and I used yoga.
What kind of holistic modalities do you utilize?
I use a lot of relaxation techniques such as guided meditation with body awareness and breathing. I use color light therapies, yoga, essential oils, mindfulness concepts, zero balancing, and natural vision techniques.
How do these modalities uniquely benefit your patients?
The patients who have had a head trauma, who experience headaches and visual challenges, benefit from relaxation and light therapy. I use these modalities as preparatory methods. Relaxation and light therapy both work to calm the nervous system; the light therapy takes down inflammation which helps with the headaches. It is only after reducing symptoms that the patient can attend to vision exercises; the parasympathetic nervous system is what innervates eye convergence, so you have to first reduce the stress response before working on visual / occupational performance.
Zero Balancing (ZB) is a form of skilled touch that integrates concepts from acupuncture and osteopathy. I use it to help patients who have pain or limited range of motion, for patients with anxiety, and those who have Parkinson's disease. ZB helps to release held tension in the bones and tissues of the body which increases ease of movement. I believe that held tension in the body is due to a protective response to trauma, ZB appears to release that trauma.
I have used essential oils for people with high tone, difficulty attending, headaches, parathesias; they help with pain, inflammation, sleep and many other conditions that may be affecting a person's occupational performance.
I also teach an adapted yoga class for people with Parkinson disease and other conditions affecting movement and/or balance. People who could not typically attend a yoga class are able to participate. I did a qualitative research study examining the lived experiences of those participating in the class. I am currently writing an article. I am looking forward to sharing the perceptions of this group on how yoga helps them physically, mentally, spiritually, emotionally and occupationally.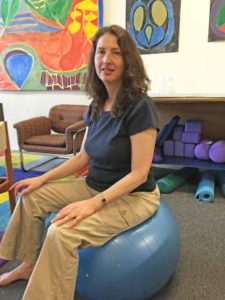 You work in two settings, a hospital as well as a private setting. Can you talk a little about the benefits and/or challenges of each setting?
I think there are benefits and challenges in both settings. The benefit of working in an outpatient setting is that I receive referrals directly from the rehab hospital and from neurologists. The patients I see have a wide variety of conditions and it keeps me on my toes, keeps me learning, and also gives me the opportunity to be creative and do whatever it takes to help them. The challenge is keeping up with the productivity and documentation expectations and pace. Sometimes the expectations feel far from the actual treating of the patient, and take up a lot of energy. Now that we have electronic documentation I feel and have even heard the patient's say it takes away from the one to one interaction. The advantage of a private setting is you can be truly present with your clients. You also know they come to you specifically for what you have to offer, so you can use your skills and holistic methods without having to advocate for and justify their use. It's a lot less stressful. The overall challenge is to create a balance of outpatient and private work while also maintaining enough time for my own self care.
What advice can you offer to OTs interested in holistic healing methods?
My advice is first to care for yourself. Self-care may take many holistic forms. When you have experienced the benefits yourself, you will be able to share that experience with others. It was my own healing journey that first led me to yoga and deeper into the healing arts. It may be your own needs or the needs of your patients that propel you to learn more. Take one day at a time, follow your interests and follow your heart.
If you can, please describe a time or "a-ha" moment that affirmed your decision to become a Holistic OT.
A few years ago I was struggling with feeling misunderstood and alone in an outpatient setting of mainly PTs. I was uncertain of whether it was OK to use, and to document, some of the holistic methods I was providing. It was hard enough to promote OT's distinct value. I also had to self advocate for my "out-of-the-box" techniques too. Then when G-codes came and we were required to document one impairment at a time – I felt my holistic way of working was going to be nearly impossible to maintain. My "a-ha" moment came when I learned of the Holistic OT community. I found the Holistic OT site and saw the evidence that was being collected there. I was glad to know I was not alone. I found the support I needed to continue to provide holistic OT in the outpatient setting.
What direction do you see Holistic OT taking in the future?
People who want to stay healthy as well as those who have a health condition are already turning to the healing arts and seeking wellness alternatives. I believe the demand for holistic approaches will grow. Occupational therapists are ideally suited to provide holistic self care and healing modalities. They can facilitate healthy lifestyle habits and routines, whether they work in a preventative or rehab model. I believe there is a need for holistic OT and it will continue to grow.
Do you have a favorite inspirational quote or story that you would like to share?
As a peace and harmony seeker – this quote has always resonated with me:
There is no way to peace, peace is the way.
---
To learn more about Sharon Hick's services, please visit her website. To view her contact information, please visit our holistic services directory.