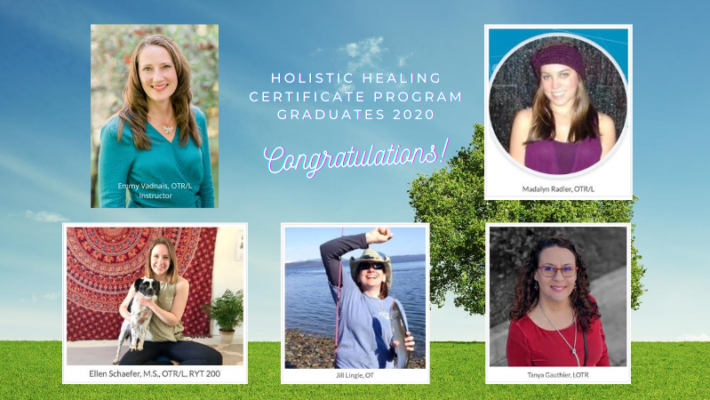 Holistic Healing Certificate Program Graduates 2020
Congratulations to these occupational therapists who recently completed the Holistic Healing Certificate Program taught by Emmy Vadnais, OTR/L. Hear in their own words how the program his impacted them and how they are creating the present and future of holistic and integrative health, wellness, and prevention.
Learn more about the program here. Next program begins October 10 and 11, 2020 with the Power of the Mind in Healing. All classes are taught online. They will be recorded. Register Here
"I have learned so much in the Power of the Mind in Healing class, both personally and professionally. Personally, it has helped me to develop more trust in my own intuition and inner knowing. It has taught me more than ever before that the answers to most of what I am seeking are already inside me. I have deepened my personal meditation practice and added many new tools to my own personal tool box of inner guidance. I have come to trust my gut instincts more, and tune in and listen to what my body and soul is whispering to me if I listen closely. Professionally, this class has given me more confidence to use with my clients (both children and adults) and speak about the importance of the subtle energies in the outcomes of my students, especially related to the area of sensory and emotional regulation. It has backed up my knowledge with more evidence based information, literature and studies that I can use to support my use of yoga, breathing techniques, relaxation, to improve the outcomes for my student's at school. It has also given me the tools and confidence to listen to my intuition about taking the next steps in my OT career.
I believe that holistic/integrative care is generally the wave of the future in healthcare. It brings back the traditional roots of all healthcare, and that is to treat the "whole person" vs just one system or part at a time. As I personally know, becoming invested in one's one healthcare is one's greatest asset in navigating the journey of health. This allows the individual to advocate for what they need and become an active participant in their own care, which will create the most optimal outcomes. With proper guidance, a person can begin to tune into their own inner knowing and learn to give the body, mind, and spirit what it needs to both heal and remain in a homeostatic state of good health/balance/wellness.
I see myself making this happen by continuing to work holistic based techniques into my current school OT job, including yoga, breath work, subtle energy work, and relaxation response as appropriate in a school setting. I also plan to transition to a primarily telehealth model of private practice OT and coaching from my home alongside my current part time job in the schools, and hopefully grow into only doing private practice within a few years." Tanya Gauthier, LOTR
"I have appreciated the interplay between mind, body and spirit for some time now. The amount of research referenced in the classes has enhanced my understanding and confidence in how the three support and influence each other. For example, how just ones belief in the healing or the lack of belief in healing (Placebo and Nocebo effect) influences any intervention and will strongly influence the body's ability to heal or not.
The class emphasized the negative health effects of distress as well as every day stressors. I believe most stress comes from fear, which is rooted in the human desire to belong or a fear of not belonging. Spirituality can be the key to reducing that fear in our life. If we feel deeply spiritually connected we have something to trust in ifwe feel we have lost the support of others. I feel that spirituality is a very important piece of the mind, body, spirit connection and can help us remain hopeful in times of despair or to deal with feelings of separation and being alone. The class highlighted this concept "Help them to find a sense of connection versus separation, and help them to find meaning and discover lessons of their suffering". (from Emmy's class handout).
I believe the world is becoming more open to concepts of integrative health as more mainstream and complementary to western medicine and less as alternative ideas that are sometimes met with skepticism, suspicion or fear. I think that our collective consciousness is becoming more enlightened every year. I can imagine a day when Mindfulness and integrative health is viewed as a skill kids learn similar to the food pyramid or basic health education." Jill Lingle, OT
"My experience with the Holistic Healing Certificate Program has been transformational to say the least. About one year ago, I felt burned out in my occupational therapy (OT) career with my anxiety at an all time high. I decided to take a year off to dive deeper into holistic practices, which had been a long standing passion of mine that I never felt able to incorporate into my career. Looking back now, I realize that what lead to my burn out was not only the lack of a holistic approach to my OT practice but the lack of a holistic approach to my own life. A year ago, I did not realize that healing myself, as opposed to learning how to heal others, would become the majority of my work. My expectation going into this course was to gain knowledge and tools to incorporate holistic techniques in my practice as an OT. Through putting these tools into practice in my own life and practicing with others, I feel my expectations were exceeded. This course, along with other courses and a commitment to spiritual healing in my own life, has brought me to a place where I now feel confident to help others heal their body, mind and spirit.
I believe that an integrative/holistic approach to healthcare will be the future of healthcare in the West. The general population is awakening to the benefits of living a life with more body-mind-spirit connection, as evident by the increasing popularity of mindfulness literature, meditation, yoga, Reiki etc. In fact, for many they are realizing that it is not only beneficial, but essential to start embracing this healthier way of living. At the same time, we are also awakening to the harsh reality of pharmaceutical use and misuse, the great disparity of a corrective versus preventative health care approach, and the enormous amount of money that is spent due to these approaches, which I feel all have roots in a society that has, until recently, undervalued the body-mind-spirit connection. These devastating social, emotional, physical and economical effects will undoubtedly force healthcare to re-evaluate its approach and priorities, and I believe this evaluation has already begun. It will take an almost unfathomably large shift to change the basis of modern healthcare as we know it. However, I have faith that these changes can be made from the bottom-up, starting with small changes made by healthcare workers themselves. I believe that if more practitioners start to embrace what their intuition is telling them, this courageous rising up will have a domino effect impacting all levels of healthcare." Madalyn Radler, OTR/L
"As an individual practitioner, I am increasing the reach of holistic and integrative health through my position as an OT in the public-school system.  Teaching children stress-reduction strategies will have a profound impact on their health and lifestyle factors throughout their lifespan. I have also created my own website and platform to bring holistic occupational therapy services and integrative health information to my community. I hope to be a part of facilitating the growing, collaborative, and inclusive future of integrative and holistic health.
The future of holistic and integrative health will be far reaching, collaborative, and inclusive. The increasing popularity of meditation in the western world suggests a greater understanding of the mind-body-spirit connection on the horizon. With the assistance of individual healthcare practitioners utilizing integrative health strategies, the use and understanding of holistic health will grow.  As knowledge expands, it will facilitate collaboration between traditional and integrative healthcare providers. This collaboration will result in a multifaceted view when working with clients. Holistic and integrative health will also expand to underserved populations as main-stream acceptance and healthcare worker collaboration rise." Ellen Schaefer, M.S., OTR/L, RYT 200