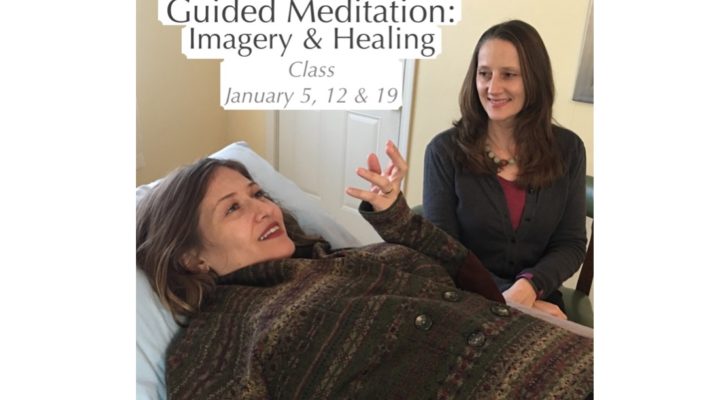 Guided Meditation: Imagery & Healing Class January 2019
Class Information
Dates & Time:
January 5, 12, and 19, 2019 (9 a.m. – 4:00 p.m. Central Time)
Location:
Local in St. Paul, MN combined with Distant Learning via Live Interactive Video Conference
Instructor:
Emmy Vadnais, OTR/L
You Will Learn:
Foundations in meditation and guided imagery techniques that can lower pain, stress, anxiety, depression and symptoms of trauma
How the relaxation response can assist stress reduction, improve healing and disease prevention
How to guide people to access their intuition/inner wisdom for insight, guidance and direction for well-being in all areas of their life
Foundational guided and interactive imagery techniques to assist people to transform emotional and physical feelings and create positive outcomes
Naturally boost the immune system to the genetic level by tapping into a person's positive meaning and belief state (placebo)
How to successfully guide people toward their health, healing and wellness goals
Guided Meditation and Guided Imagery are forms of healing that can positively affect the physical, emotional, mental, and spiritual aspects of a person. Imagery is a powerful tool that can assist healing, because it accesses the subconscious mind that thinks in images and symbols, and the body where tension, emotions, energy, and beliefs can be held. These images provide clues to help a person receive insight about what will help them heal and have deeper meaning and understanding about what causes them physical or emotional pain. Thus, they can have a better relationship with what causes them pain and suffering so they can transform it, resolve it, or learn to manage it more easily.
Research shows that meditation and guided imagery can: give a person a greater sense of control, increase self confidence, assist with fear, panic, anxiety, helplessness, uncertainty, trauma, loss, and grief, increase relaxation, decrease depression, decrease stress, decrease pain, decrease nausea, decrease blood pressure, prepare for medical procedures, decrease respiratory difficulties, decrease medication side effects, improve immune system, improve healing and recovery time, decrease hospital length of stay, enhance sleep, strengthen connection to spirituality, meaning, and purpose in life, improve functional outcomes, and improve quality of life.
This is an Introductory Level Class that is available to Health Care Professionals and  anyone who wants to learn these techniques for their own self-care and personal development or to help others. These courses will enhance any Health Care Professionals skills who would like to bring a Mind-Body-Spirit, Prevention, and Wellness approach to Healing. Excellent for Occupational Therapists, Physical Therapists, Speech Therapists, Nurses, Physicians, Mental Health Practitioners, Massage Therapists, Yoga Practitioners, and any one caring for others.
This is the third class in the Holistic Healing Certificate Program.
Read Article in ADVANCE Magazine by Emmy Vadnais, OTR/L "What is Guided Imagery?"
Testimonial
I am so so grateful to Emmy! I have been an OT for 30 years. Mind, body, spirit connection has always been a personal passion of mine. I have spent years studying, learning and practicing on my own. As an OT I chose this profession because I believed that I would be able to assist others by treating the whole person. I have worked in the physical disabilities area for my entire career and feel that the body has been the sole focus and it can be very frustrating at times. Emmy has been the catalyst for me to start to bring more holistic concepts into my practice as an OT in home care. She has provided very practical and realistic ideas on how to incorporate these techniques. She is a true leader and pioneer in our field and I hope that more healthcare professions find her. Thank you so so much Emmy.  – Jodi Newton, OTR/L
Continuing Education – 18 CEUs
Health Care Professionals will receive a Certificate of Completion that may be submitted to your professional board for professional development credits. A completed course evaluation is required within 30 days of taking the class to receive a Certificate of Completion.
This course meets the NBCOT requirement as a Professional Development Activity PDU ID #14.
Distant Learning
Distant Learning will meet via the internet or teleconference. You must have a working computer, high speed internet, web cam, microphone, and speakers. Once you have registered you will be instructed on how to connect. It really is easy!
Class Policy
Payment is due in full one week before the start of class. Refunds will not be given after the first class. You must attend each class to receive a Certificate of Completion. If you miss one class you will need to make it up with Emmy based on an hourly rate. If you miss more than one class in a series you will need to retake the entire level. Full refunds will be given if the entire class is cancelled by the instructor. Complaints can be handled with Emmy Vadnais, OTR/L.