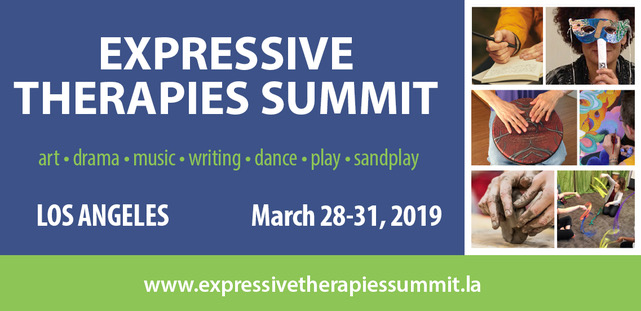 Creativity & The Arts in Healing Conference
3rd Annual Conference on Creativity & The Arts in Healing
Sponsored by Expressive Therapies Summit in partnership with UCLArts & Healing
Thursday, March 28 through Sunday, March 31, 2019
Hilton Los Angeles Airport
Program, Registration, Rates: www.expressivetherapiessummit.la
Attend any one or more days!
• Learn arts-based tools for facilitating communication, building connection, promoting positive emotions, fostering engagement, enhancing mindfulness, reducing stress, and managing the impact of trauma.
• 150 invited faculty and sessions, featuring half-day workshops, daylong master classes, and 4-day training intensives emphasizing hands-on participation and cross-disciplinary collaboration. Creative approaches include: art, drama, dance/movement, music/voice/drumming, photography, writing/journaling, play therapy, sandplay, and yoga.
• Keynote Address: Andrew J. Newberg, MD, Professor and Director of Research at Marcus Institute of Integrative Health, Thomas Jefferson University and Hospital, on "The Neuroscience of Contemplative Practices, Rituals, and Trance States: Implications for Clinicians."
• Over 30 CEs Available — MFT, Social Work, Counseling, Psychology, Play Therapy, Arts Therapies, Sandplay. New York State OT credits approval pending.

Questions? 740.338.4595 • [email protected]