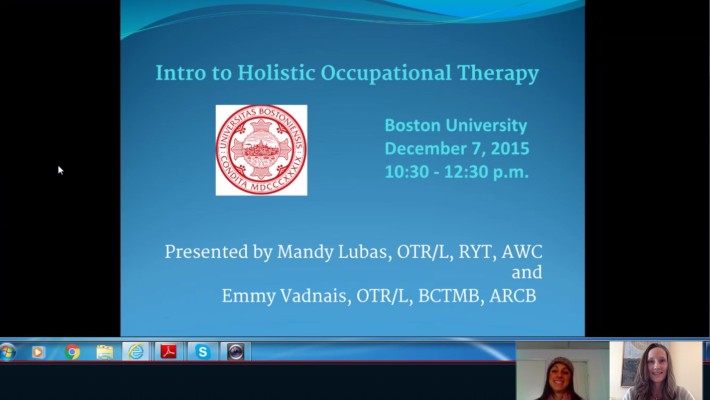 Boston University Presentation on Holistic OT on December 7!
Emmy Vadnais, OTR/L and Mandy Lubas, OTR/L will present an "Intro to Holistic Occupational Therapy" to the OT students, faculty, and staff at Boston University, December 7, 10:30 a.m. – 12:30 p.m.
Emmy began blogging about Holistic OT in 2010. She and Mandy met in 2011 and had their first article "Holistic Occupational Therapy: Complementary and Alternative Medicine is an Emerging Specialty Practice Area in the Profession" published in ADVANCE Magazine for Occupational Therapy Practitioners in 2012. They have had their own 'Light on Holistic OT' column since 2013, and have co-hosted the monthly HOT – Holistic OT Conversations on various topics on how to integrate Mind-Body-Spirit Medicine, Prevention & Wellness into OT Practice.
In January they will present Holistic OT to the executive leadership team at the American Holistic Occupational Therapy Association, along with Carroll Noel-Mozer, OTR/L of Spaulding Rehab.
They are excited and grateful to continue to make inroads into mainstream health care, sharing the efficacy and how many holistic health care approaches can enhance wellness, health, healing, and prevention.
Wish them luck!