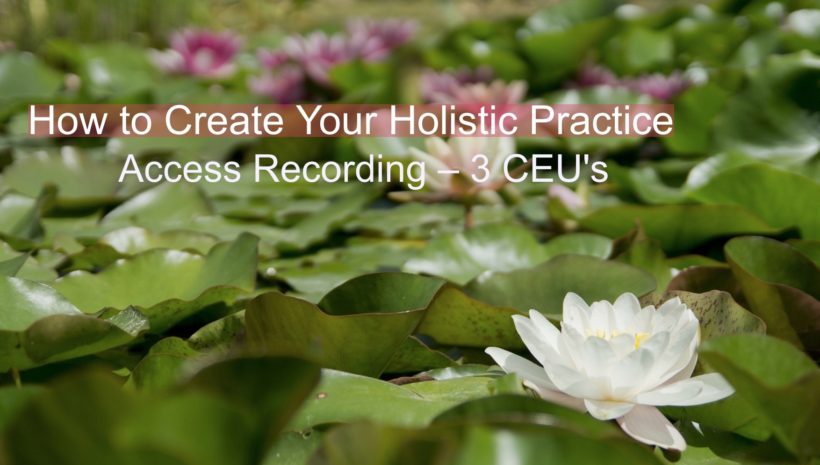 Holistic Practice Class Audio Recording

Begin or expand your Holistic Practice in this Holistic Practice Class.
Receive support and guidance from a Holistic Health Practitioner with 20 years in Holistic/Integrative Medicine and private practice.
In this Class you will receive support with:
Creating or Expanding Your Holistic Practice
Increasing Your Confidence
Creating a Business Plan
Marketing – How to Grow and Attract Your Clients
Referral Sources
Holistic Assessments/Evaluations
Reimbursement, Billing, and Documentation
Create and implement a plan to build your confidence as a Holistic Practitioner and grow your client list. Get unstuck and follow what your heart is telling you. Get in alignment and create exactly how you would like to be working, with whom, and where as a Holistic Health Practitioner.  
Continuing Education – 3 CEUS
Health Care Professionals will receive a Certificate of Completion for completing the class that may be submitted to your professional board for professional development credits. A completed course evaluation is required within 30 days of taking the class to receive a Certificate of Completion. This course meets the NBCOT requirement as a Professional Development Activity PDU ID #14.
Testimonials
"Emmy was absolutely wonderful to work with and learn from. The information that this course provides has fueled my passion and desire to work in the field of holistic OT. It gave me clarity on the aspects of my business that should be addressed first and those that could wait for future development of my offering. The information was easily digestible. The course was just the right amount of time as I began feeling fatigue with the abundance of information this course has to offer towards its end. This course is great if you are just beginning your private practice OR have a fully developed practice and would like to re-evaluate it to see where you can further improve your business and offering. Thank you Emmy for blazing the trail for holistic OT!"  Mary Vogel, OTR/L
"Emmy provides valuable knowledge about how to bring holistic and integrative interventions into the OT world. This class provides a good breadth of information to think about when starting a business, or for bringing more integrative and holistic practices into your existing OT work. This class helped me to: clarify questions I have as a new (and reluctant) business-owner, feel more justified in my integrative identity, and how that fits within the world of OT. It answered some of my burning questions, and helped me clarify the questions I have – rather than just feel stuck in fear. I feel more empowered in owning the spiritual part of my holistic identity and in how that is part of the whole person when also addressing the physical, emotional, mental and social in promoting wellness, pain relief, and more quality of life with valued roles and occupations." Erika Osmann Mason, OTR/L
"After working as an OT for 15 years I am in the very beginning stages of thinking/dreaming about starting my own practice. While there was so much great information, Emmy did such a wonderful job presenting in a way that was not overwhelming. I am so grateful to have found this class and this Holistic OT community. It came at the perfect time. Thank you!" Michelle Tompkins, OTR/L
"I have shuffled my feet for years trying to imagine what a holistic OT practice looks like "under the hood". I think in many ways I wanted someone to give me permission to go forward and spell out "the rules" on what I can or can't do under my license. And you did that  – thanks! I especially appreciate the specific examples of questions to ask, evaluation tools to use, what to document, how to get and retain clients, etc. Very helpful!" Rachel Christian OTR/L
"Great course with awesome resources and information! I feel much more confident incorporating this into my practice after taking this course! Thank you Emmy!" Heather Falanga, OTR/L
"Thank you so much! I am overjoyed with the help and education Emmy has offered during this class and before. This class was so informative! I have a GREAT idea on where to start and what areas to think about more! I am overwhelmed with the amount of information that Emmy has offered us during this course, however it was delivered in such a way that it all makes perfect sense and was very easy to follow. She kept it very personable and fun. I feel I have made a connection, like I've known her for years! Very beneficial and highly recommended! I plan on taking more of her classes and keeping in touch." Lindsey Ostrander, COTA/L
"The content was great and very thorough. Being new to the holistic approach in occupational therapy this was a fantastic course to get me started on the right track." Rachel Sharpe, MOT, OTR/L
"The Holistic Practice class that Emmy offers provides a practitioner with the business plan format and documentation/billing information needed to confidently embark on a private practice journey." Melanie Small, OT/L
"Emmy's Holistic Practice Class provides a wonderful overview of the main topics involved in creating or expanding a Holistic OT or health care practice. Her presentation style is engaging, and the information presented is concrete and helpful. It covers topics regarding self-exploration in why you may wish to endeavor into more holistic aspects of OT or health care and then into more of the nitty-gritty of how to do this. The information applies to practitioners who wish to branch out on their own in private practice or others who simply wish to incorporate more varied holistic methods into their OT interventions and health care. Thank you, Emmy for this valuable class!" Cathy George, MSOT, RYT
"This coaching was helpful for shining a light on how holistic healing methods can be used effectively in OT and gave me more confidence to expand the development of my own holistic occupational therapy practice. Thank you Emmy!" Kirsten Protos, MS, OTR/L
"This Holistic Practice Class is an incredible tool to help answer all of the questions about starting your own holistic OT business. Emmy does an amazing job addressing all components of creating and running a business through the lens of a holistic OT. I'm excited to begin the journey to opening up my own holistic OT practice." Alison Ausherman, OTR/L
Class Policy
Payment is due in full one week before the start of class. Refunds will not be given after the first class. You must attend the full class to receive a Certificate of Completion. If you miss one class you will need to make it up with Emmy based on an hourly rate. If you miss more than one class in a series you will need to retake the entire level. Full refunds will be given if the entire class is cancelled by the instructor. Complaints can be handled with Emmy Vadnais, OTR/L.