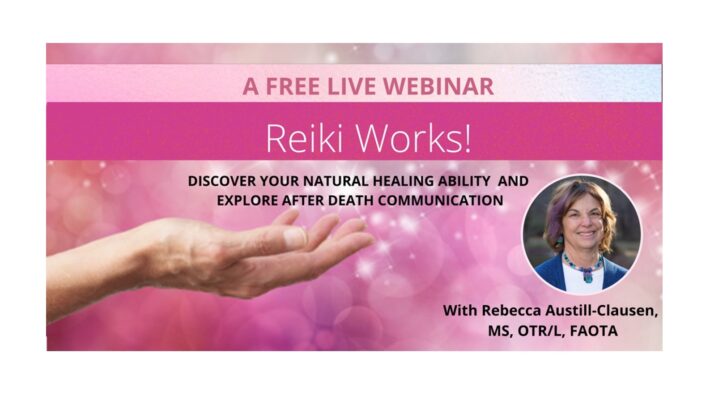 Reiki Works – Free Webinar Feb. 5
Our friend, Rebecca Austill-Clausen, Occupational Therapist and Reiki Master Teacher, has spent over 25 years exploring natural energy healing concepts. She has taught thousands of people the physical and emotional benefits that occur by learning Reiki in just one day!
She is offering a FREE LIVE webinar on Saturday, February 5th at 1 pm Eastern – 10 am Pacific (if you can't attend, register anyway and you'll receive the recording). I encourage you to attend this empowering webinar that brings you healing and joy. Register HERE to embark on a transformational journey of love!
Rebecca shares that once your own Reiki energy is activated, your ability to communicate with loved ones living beyond the veil expands. She is launching a FREE, live webinar called "Reiki Works! Discover Your Natural Healing Ability and Explore Afterlife Communication."  
Rebecca he will explain how YOU can activate your own energy using 3 key concepts:
Recognize and use your own healing vitality that is already available for you.
Discover where your body holds energy that needs to be released.
Why Reiki, often called unconditional LOVE, opens communication channels with your deceased loved ones.
Reiki Level I and Reiki Level II one day, certificate provided programs are being offered at the AOTA INSPIRE 2022 in-person component of this years conference being held in San Antonio, TX.
Reiki Level I is offered as an Institute (Institute 014) on Wednesday, March 30, 2022 from 12-6:30 pm. Reiki Level II is offered as two workshops held the following day on March 31, 2022 from 8-11:00 am (Workshop 110A) and from 2:45-5:45 pm (Workshop 110B). Reiki Level II attendees must attend both Reiki Level II workshops to receive their Level II certificate in the Usui form of Natural Energy Healing. All Reiki programs are being held at the Grand Hyatt, San Antonio main conference hotel.