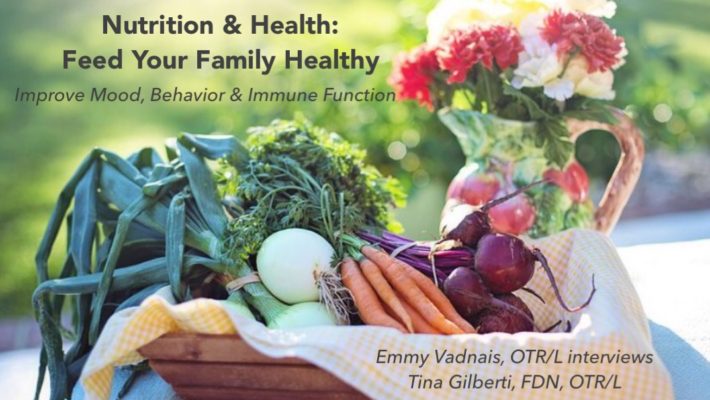 New Podcast – Nutrition & Health: Feed Your Family Healthy
Emmy Vadnais, OTR/L interviews Tina Gilberti, FDN, OTR/L for the Healing Connections Podcast – Episode 4:
"Nutrition & Health – Feed Your Family Healthy: Improve Mood, Behavior, and Immune Function"
Learn:
Suggestions for families to eat well.
How to make healthy food choices on the run.
How to help transition diets for children and adults.
How eating well can improve mood, behavior, and the immune function.
Tina is an Occupational Therapist for over 20 years and a Functional Diagnostic Nutrition Practitioner. She is passionate about helping her clients get to the root of their symptoms, identifying hidden imbalances and stressors and developing protocols to optimize their health and wellness.
Tina has created an online Holistic LENS training program for OT's to help them identify and address Lifestyle, Environmental, Nutritional and Stress factors impacting their clients' conditions. Music by Steven C. Anderson: "Blue & True" from the album "Past to Presence – Mellow." Learn more about Tina and her practice.