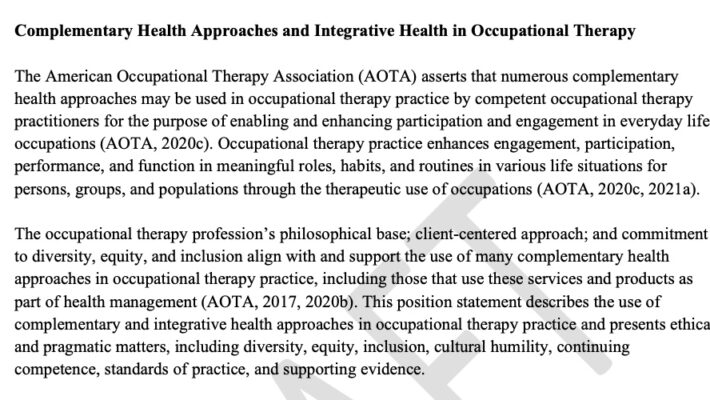 New Position Paper for OT and Integrative Health 2023
Happy OT Month! We're happy to share that there is a new, updated version of the Complementary Health Approaches and Integrative Health in Occupational Therapy Position Paper (CHAIH in OT) from the American Occupational Therapy Association (AOTA, 2023). 
New Version
The new version is available as PDF on their website. It will be published in the American Journal of Occupational Therapy in the Nov/Dec 2023 issue.
The paper continues to uphold that many integrative health approaches may be used as a preparatory method, therapeutic activity, and an occupation itself.
Occupational Therapists' Responsibility
It is, of course, up to each occupational therapist to:
Read the CHAIH in OT paper and be familiar with their local laws about integrative health.
Be trained in the integrative health approach they will use in treatment and be familiar with the research that supports it.
Determine which integrative health approach(es) may support the client in their treatment
Determine if the integrative health approach supports the overall treatment plan.
Refer to other practitioners if not trained in an approach or if another integrative health approach may be beneficial for the client that falls out of the scope of OT, such as acupuncture.
Consult and refer back to the primary practitioner to clarify treatment.
Follow the OT Scope of Practice as outlined by the OT Practice Framework 4, OT ethical guidelines, and your clinical discernment.
A special thank you to Michelle Bradshaw, DC, OTR/L for updating this document. We are grateful!
AOTA is a membership organization. You will need to be a member to access their documents.