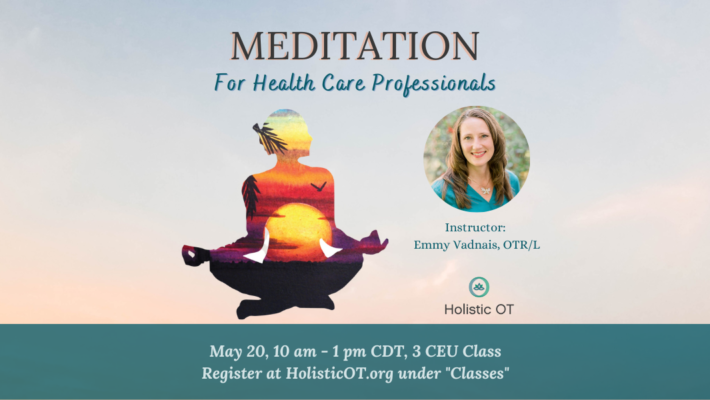 Meditation Class for Health Care Professionals – May 20
Meditation for Health Care Professionals
Instructor: Emmy Vadnais, OTR/L
Date: May 20, 2023, 10 a.m. – 1:00 p.m. Central DaylightTime
3 CEU's
$55 for Full Members, $75 for Non-members – become a member here
Join Emmy Vadnais OTR/L to strengthen your skills with meditation in clinical practice and self-care on May 20 – LIVE and RECORDING options available.
Meditation and Relaxation have many health benefits that can assist with managing and the reduction of pain, stress, anxiety, and increasing recovery time and disease prevention. In this course you will be guided through several relaxation and meditation scripts that can be used with your clients and for your self-care.
This is an Introductory Level Class that is available to Health Care Professionals and  anyone who wants to learn these techniques for their own self-care and personal development or to help others. These courses will enhance any Health Care Professionals skills who would like to bring a Mind-Body-Spirit, Prevention, and Wellness approach to Healing. Excellent for Occupational Therapists, Physical Therapists, Speech Therapists, Nurses, Physicians, Mental Health Practitioners, Massage Therapists, Yoga Practitioners, and any one caring for others.
Read The Power of Meditation by Emmy Vadnais, OTR/L, originally published on ADVANCE Magazine.
You will Learn:
Several Meditations that can be used for Self Care and integrated into your personal and health care practice including how to induce the Relaxation Response and how to engage in Mindfulness as a Meditation and during Activities of Daily Living
How Meditation and the Mind-Body-Spirit Connection can help with prevention, wellness, and disease recovery
The Relaxation Response and how it can lower pain, stress, anxiety, and heal all the way to the genetic level
How to increase your confidence with mind, body, spirit medicine
How to deepen your own meditation practice for more peace and joy in your life
Continuing Education – 3 CEUs
Health Care Professionals will receive a Certificate of Completion that may be submitted to your professional board for professional development credits. A completed course evaluation is required within 30 days after taking the class to receive a Certificate of Completion. This course meets the NBCOT requirement as a Professional Development Activity PDU ID #14.
Testimonials from Previous Students
"Great class! I'm so happy I took the Meditation for Health Care Professionals class. I loved being guided through the meditations so I could experience them for myself and gain a deeper understanding of how to use these in the future. Emmy provides a comprehensive overview of the spiritual, emotional and physical benefits of meditation, and guides participants through several different meditation techniques. My toolkit for stress reduction techniques continues to grow thanks to Emmy's classes. I can't wait to take what I've learned and share this with others, while also weaving these strategies into my own daily self-care practice. Thank you for another great course, Emmy!" Caito Bowles-Roth, OTR
"After taking the Meditation for Health Care Professionals, I have a greater understanding of how it can be implemented during my occupational therapy sessions. I feel more understanding about the benefits of meditation and feel more confident about incorporating it with my clients of various backgrounds." Kali Campbell, OTR/L
"This webinar was exactly what I needed. I am feeling feelings of burnout from working in my practice setting. I need the structure of a mindfulness practice to help me work through these sensation." Olivia Glover White, OTD, OTR/L, C/NDT, RYT200
"Thank you, Emmy, I have had a regular meditation practice for 12 years now but I love to see the evidence behind this and to have the information synthesized in such a way like you have done. Despite the many benefits I have gained, I have been reluctant to introduce my clients to it out of fear of being able to articulate the reasoning behind it. I will feel more confident doing so now from the structure provided here." Lee Byars, Occupational Therapist B. App. Sc (OT)
"I really enjoyed taking this course, Meditation for Health Care Professionals, and found it directly applicable to my personal and professional life. I believe all people could benefit from taking this course and furthering their awareness of their own emotional tendencies and how to quickly embrace these tendencies in order to move forward in a loving light. Patients in all settings would benefit from having a practitioner who has an awareness of meditation, to either plant the seed for the patient to look into this more independently, or practice in the clinical settling. Thank you, Emmy!" Emily Thurner, OTR/L