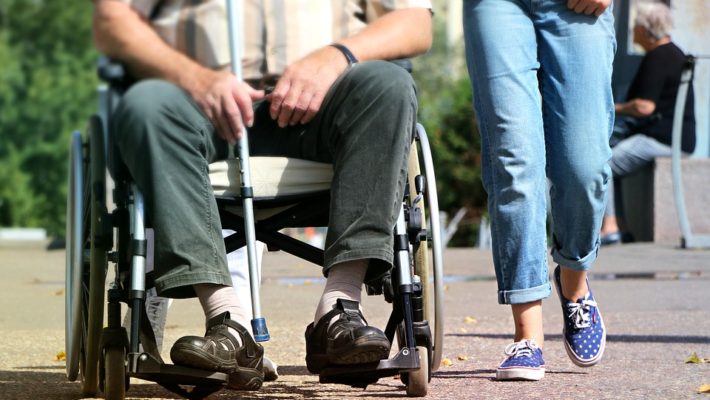 Making a difference with complementary and integrative health
Kate and Tauni, Prospective OT Students
Kate and I are both prospective occupational therapy students living in Brooklyn, New York, and we are both interested in complementary and integrative health. Kate is a yoga teacher and I hold a reiki certification. While we have these core interests in common, we met in an unlikely setting, while working together at a ramen shop, serving food and making adaptable "kids chopsticks." Go figure!

After discussing our experiences and goals related to OT, we quickly decided that we would like to work together outside of serving delicious bowls of soup. We wanted to do something that combined our volunteer experience and love for complementary and integrative health, and we wanted to do it with a hands-on approach.
Therapeutic Recreation for the Older Adult Population
After brainstorming sessions in our local library, we decided that we wanted to work closely with a licensed occupational therapist to provide volunteer services that are both recreational and therapeutic in nature. We felt that the geriatric population would benefit from mindfulness, movement, and play. While we knew that as students, we could not diagnose or treat patients, we wanted to consult with a licensed occupational therapist so we could view our proposed activities through an OT lens.
I work for Emmy Vadnais, OTR/L of the Holistic OT Community. Emmy became a great resource for us, as we developed therapeutic programs and activities to promote health and healing in the geriatric population. Kate at the time was volunteering in the OT department in Cobble Hill Senior Center in Brooklyn, New York. When she let them know our idea, she was referred to the recreation department. It was then that we met Louis Dueño, CTRS and the head of the Recreation Department. She was supportive and encouraging of our idea, so we created our program with the help of Emmy and had a space to do it with the help of Louise! All in all, we visited the senior center three times.
Day One
The first time we went, we decided to color mandalas.  Kate and I did research on the mental health benefits of coloring mandalas. From our prior volunteering and observation experience, we thought this activity would be helpful with things like hand dexterity, fine motor skills, and strengthening. We created postcards that featured a mandala on one side and space for writing messages to loved ones on the other side. We also created handouts about the health benefits of coloring mandalas. After our first visit, Kate and I were excited as we chatted about what we felt went well and what we would do differently in the future.
Day Two
For our second visit, Kate led a chair yoga class. The health benefits of yoga are well documented, and chair yoga in particular has been shown to be a great option for geriatric populations. Kate developed a chair yoga sequence that was safe and gentle for our group, many of whom use wheelchairs. We began the class with a shared breathing exercise. Our goal was to promote cardiovascular health, flexibility, increased range of motion and coordination. It was wonderful to see our group actively engaged. For some, it was their first time practicing yoga and went over quite well.
Day Three
For our third visit, Kate and I led guided meditation, reiki, and yoga exercises. After guided meditation, the group held reiki self treatment positions while I discussed the five principles behind the activity:
Just for today, I will not anger
Just for today, I will not worry
Just for today, I will be grateful for all my blessings
Just for today, I will work with honesty and integrity
Just for today, I will be kind to all living beings
Though reiki was a new concept to everyone, those in the group who had a spiritual practice seemed to enjoy it. After meditation and reiki, Kate led a chair yoga sequence. She also created a custom music playlist that was both energetic and playful which increased engagement. Our goal was again to decrease stress and anxiety, as well as promote cardiovascular health, flexibility, and increased range of motion.
Our Experience
We are so grateful for the opportunity to work with Emmy, Louise, and the wonderful staff and residents of Cobble Hill Senior Center. We were able to learn invaluable tools such as leading a group, adapting activities to suit individual needs, and beginning to think about how certain activities may promote occupation.
Perhaps our favorite part was the social impact we made by connecting with a wonderful group of people. We will never forget certain moments: the smile on someone's face after a peer complimented their mandala drawing, the excitement in someone's voice as they experienced yoga for the first time, and the curiosity of the staff after we finished our activities. There is truly a spirit of generosity in everyone who was involved in our volunteer project that we will take with us as we pursue our dream to study occupational therapy.