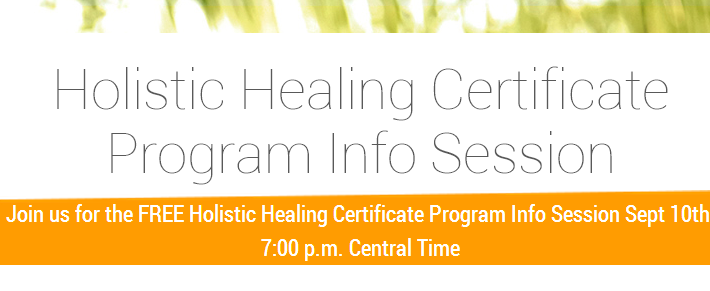 Holistic Healing Certificate Program Free Info Session – Upcoming Classes
Are you an OT or Health Care Professional who would like to delve further into learning and obtaining skills in Holistic Health Care? 
Join us September 10 at 7:00 p.m. Central Time for a FREE Info Session on the upcoming Holistic Healing Certificate Program.
Are you interested in Mind-Body-Spirit Medicine? Learn about the upcoming Holistic Healing classes that will teach you clinically researched tools that can transform your client's pain, anxiety, stress, and can improve their functioning and quality of life.
Please join us to learn about the upcoming courses:
1. The Power of the Mind in Healing: How Meditation, Relaxation, Spirituality, and Intuition Can Enhance Health and Healing
2. Energy Healing: Auras, Chakras and Meridians.
3. Guided Imagery Level I: Imagery and Healing
4. Guided Imagery Level II: Emotions and Healing
Register for Free Info Session Here!
Maybe you are an OT, nurse, physician, mental health practitioner, massage therapist, or maybe you just enjoy caring for yourself and others. The Holistic Healing Certificate Program is an incredible program full of courses that can improve your and your client's lives.
*Courses are available in St. Paul, MN and in Distant Learning via Web Video Conference. Courses can be taken as the full program or you can begin with beginning level course and continue as far as you would like to go.
Learn more about the courses here!