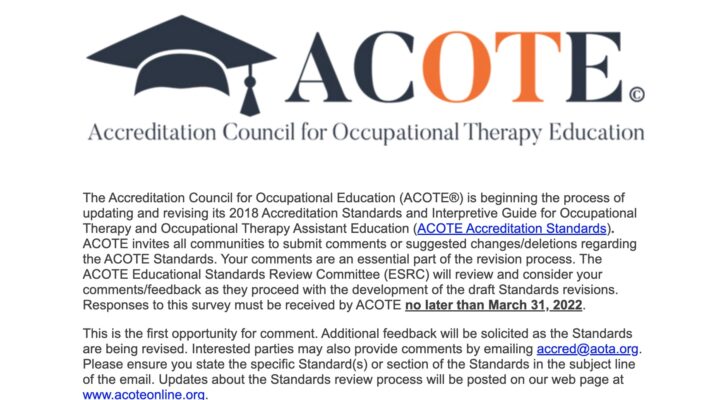 Give Comment to ACOTE for Education Standard on Integrative Health
The Accreditation Council for OT Education (ACOTE) is asking for comments on standards of education for OT programs. 

Please provide them with feedback encouraging them to consider making a standard on integrative health by March 31, 2022.



Educational Standards Review Process

The Accreditation Council for Occupational Therapy Education (ACOTE®) has begun a

comprehensive review process

of the accreditation standards. Your comments are an essential part of the revisions process. Input from all interested parties is requested by completing an initial

Call for Comment

survey by

March 31

.

Emmy Vadnais, OTR/L provided this feedback. You're welcome to copy and paste this statement, modify it, or create your own:
"Please create a standard of education for integrative health in OT education. The AOTA has a position paper and community of practice for OT and integrative health. AOTA offers a continuing education course and accepts many presentations and papers each year at the annual AOTA conference on topics regarding integrative health. Having a standard on integrative health with ACOTE is consistent with the vision of AOTA and support with integrative health. By creating a standard, the OT profession retains its relevancy in this already emerged and growing efficacy-based area in health care. OT students need entry level competency in these areas to effectively communicate and coordinate care with other health care professionals who are already educated about and practice integrative health, educate and provide the best services to clients, and refer when needed to appropriate practitioners. Additionally, many integrative health approaches can assist OT students and practitioners with self-care, stress management, and a healthy lifestyle. Thank you for your consideration."