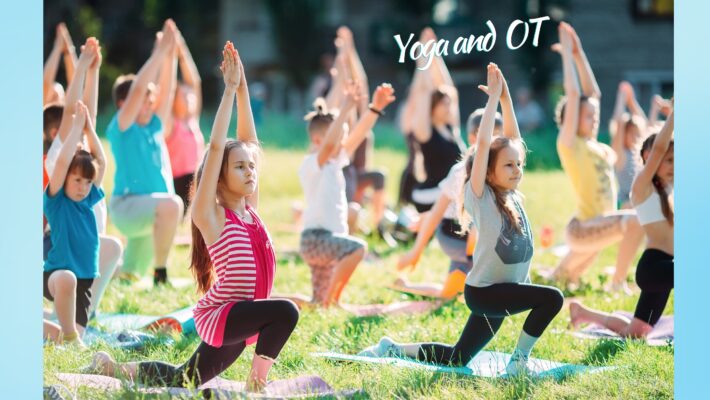 Yoga and Occupational Therapy
Yoga can be used with occupational therapy to enhance health, wellness, prevention of disease, and rehab and recovery.
This is something OTs have been doing for several years now. We keep getting questions and inquiries from OTs about how to use this in their practice. This is good new! More OTs are learning about the potential benefits and want to bring yoga into their healing sessions.
Here are some highlights and suggestions to help you using yoga with occupational therapy. If you are seeking out therapy services, be sure your OT has been trained in yoga. 
Yoga can be defined as a series of practices that promote union between one's mind-body-and spirit.
Simply put, Movement or Posture + Breath Awareness + an Inner (Mindful) Focus = Yoga.
Exercise by contrast typically has a more external focus. When people think about yoga many only think of the physical aspect of yoga or what are called poses or asanas.The physical practice of yoga is only one of the eight limbs of yoga.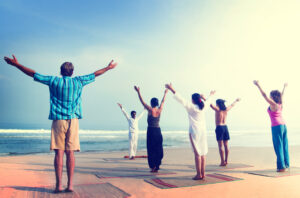 Yoga has been shown to promote:
Positive Emotional Regulation
Physiological Self-Regulation
Stress Management and Relaxation
Decreased Pain and Pain Tolerance
Increased Range of Motion and Mobility
Increase Muscle Strength
Increased Balance
Improved Breathing and Lung Capacity
Spiritual Connection
How can OTs incorporate yoga into their Holistic practice?
It is recommended that OTs obtain at least some formal yoga training. Formal training will provide the experience of 'embodying yoga' and provide the framework for starting a personal yoga practice. A 2-4 day yoga training is a great start, some are advertised specifically for therapists such as OTs. Taking yoga classes in different styles is also recommended. After personally practicing yoga and using yoga with clients, some OTs choose to become Registered Yoga Teachers (RYT). Yoga Alliance sets minimum standards starting with 200-HR Yoga Teacher Training. For more information go to yogaalliance.org.
Finding a yoga training that is right for you. Questions that can help inform your decision:
What style of yoga resonates with you?
2. What style(s) of yoga would be most helpful for the clients you serve?
3. Is there a local yoga studio that offers yoga teacher training? If not, do a Google search for yoga training.
4. Do you resonate with the teacher? You will only know this by interviewing or taking a few classes with the teacher. Trust your intuition; a good fit is important.
If you do choose to pursue formal yoga teacher training, you will no doubt find your OT education particularly in anatomy, physiology, and kinesiology has provided you with excellent preparation.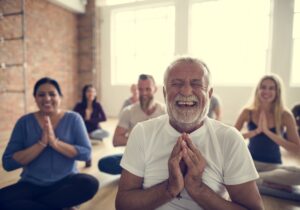 Some of the most common styles of Yoga
1. Vinyasa Flow – can be slow or fast-paced. The breath is used to move in and out of a series of postures. Examples include sun and moon salutations. Vinyasa promotes increased blood flow which supports the cardiovascular system.
2. Hatha Yoga – focuses on one pose at a time which is held for a period of time or number of breaths, e.g., 3-10 breaths. It is often slower-paced allowing for prolonged stretching and building core muscle strength.
3. Restorative Yoga – poses are gentle and held for longer periods of time. Props are often used to support the body, provide comfort and promote relaxation. InRestorative Yoga the aim is to 'let go' which releases stress in the mind-body.
4. Power Yoga – adheres to the same tenets as Vinyasa yoga, but is typically designed to be more physically challenging, vigorous and fitness based.
5. Ashtanga Yoga – is another form of Vinyasa yoga, but follows a prescribed sequence of poses. Each Ashtanga yoga class is exactly the same; the same poses repeated in the same order.
6. Yin Yoga – poses are held for long periods of time, often several minutes e.g., 5-10 minutes.Yin yoga targets the deep connective tissues in the body. It focuses both on stretching and stimulating different acupressure points fromTraditional Chinese Medicine. Fascial restrictions are often released in Yin Yoga.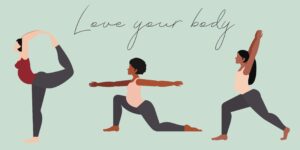 Guidelines and precautions for using yoga with clients and, in your own personal yoga practice.
As yoga has become more popular, the amount of yoga-related injuries have also increased. Since we all have different bodies, are in different stages of life and levels of health, not every style of yoga is going to be right for every person. Looking at yoga from a Holistic OT lens, yoga can be taught as a Life Skill that promotes Emotional, Physical, and Spiritual Well-being. From that lens, the following principles apply.
1. Yoga is an inward-focused practice. The best way to stay safe is to listen closely to what the body is saying, moment by moment, respect its messages.
2. Let your breath inform your practice. If you find your breath has become choppy or strained, back off a bit until your breathing is once again smooth and deep.
3. Find your "just right edge", i.e., that place where you feel an increase in sensation but not any pain; breathe into that space.
4. Let go of any outward result and know that every day is going to be different.
5. Adopt the belief that how you 'look' in a posture or asana, is not what is most important. While alignment is important, it will not look the same for everybody.If you suggest a change in alignment to a client, immediately ask how that change feels to your client. If it feels better, wonderful, but if it causes increased stress or pain in another area of your client's body, then perhaps they were already in the best alignment for that pose.
6. Practice and instruct clients to pause between poses. During this pause, instruct noticing what is happening INSIDE the body… sensations, thoughts, emotions. This is one way to practice the Niyama, Svadhyaya or Self Study.
7. Look carefully at your client's medical history.Some key questions to ask are if the client has a history of glaucoma, high or low blood pressure, osteoarthritis, degenerative joint disease, bulging discs, orthopedic injuries, spinal fusions/other internal stabilization, or if they are pregnant.Research these conditions for yoga contraindications and provide the client with specific questions or pictures of poses for the client to take to their MD for clearance. For example, an ophthalmologist may tell a patient with glaucoma that it is safe to practice inverted poses (e.g., plow pose), which can increase the pressure in their eyes, but only for ___ seconds, or they may tell the patient not to practice inversions at all. Always practice the Yama, Ahimsa, Inner Peace and No-Harm.Yoga and OT are a perfect fit supporting the Whole PersonBody, Mind, and Spirit. Always use your ethics and clinical judgment when providing yoga with OT.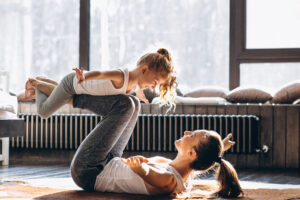 Most of the information presented here was created by occupational therapist Theresa Tovey for the OT Well-Being Summit. Listen to her presentation "Yoga in Occupational Therapy: A Holistic System for Health and Wellness" and other holistic and integrative health topics by OTs by accessing the recorded OT Well-Being Summit here.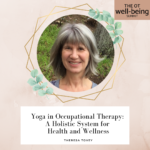 Theresa (Terry) Tovey, MOT, OTR/L, RYT 200, RCYT is an occupational therapist who uses children's yoga as a therapeutic modality extensively in her work as a public school OT. Embedding the student's OT goals into what she calls sensory-motor yoga has allowed Terry to work holistically addressing the development of the Whole Child. Breathing, relaxation, and meditation practices are an integral part of children's yoga. These practices provide students with valuable tools they can use both in and out of school. In 2015, Terry became a lead trainer for Radiant Child Yoga. To further expand her skills, Terry is pursuing her IAYT certification through the Phoenix Rising Yoga Therapy School. To learn more about Terry and her work go to lightinyouyoga.com.