A Lovely Summer Connection with Tauni Malmgren and Emmy Vadnais
This August I had the pleasure of meeting the future Holistic OT and prospective OT student, Tauni Malmgren in person in St. Paul, MN. She was traveling through town with a friend and was able to come by for a visit. Tauni has been volunteering with the Holistic OT Community for several months from New York City, and in September she will be the marketing specialist for Holistic OT. She will be helping out with social media, blog posts, newsletters, and more.
She has a great background writing for the Museum of Modern Art and BOMB Magazine, and has already been very helpful with creating the "Meet a Holistic OT Practitioner" interviews, among other support. I am grateful to have Tauni a part of the Holistic OT Community. If I were on the committee deciding acceptance for OT programs I would for sure select her for the program whole-heartedly and gladly. She will make an excellent Holistic OT!
It was a pleasure meeting you in person, Tauni, and I look forward to continuing our work together on this Holistic OT journey!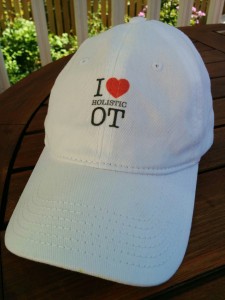 If you would like to wear you own "I Heart Holistic OT" hat please visit our store to purchase it and many other great pieces! Show your Holistic OT Love!