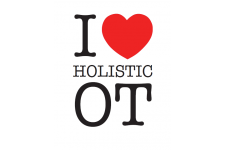 Members Share What they Love about Holistic OT
Thank you, Holistic OTs, for sharing what you love and are grateful for about the Holistic OT Community!
"For many years I felt quite alone in my pursuit of how to integrate holistic approaches, what are commonly referred to as Complementary/Alternative Medicine, into OT practice, because I could not find advocacy from my state or national association. Throughout my 15+ years practicing as both an OT and Holistic Health Practitioner it became more clear to me how the two dovetail beautifully together. I wrote a blog post and found that others were feeling the same way. OTs from around the world began contacting me. We now have a thriving and growing community. I am grateful to connect with like-minded OTs and that we are able to support each other within the Holistic OT Community, as we were unable to find that support elsewhere. Thank you to everyone who is passionate about how we can integrate holistic health care into OT practice. We are all making a huge difference in many people's lives with our occupation-based modalities." ~ Emmy Vadnais, OTR/L, BCTMB, ARCB, Founder of the Holistic OT Community
"Thank you for representing such a valuable perspective of our discipline! Holistic occupational therapy practices have provided my clients with compassionate self care skills and resources they may have never encountered otherwise. Our communities are more open and ready for options for better health, healing and wellness than ever before! My clients have been provided with life skills for ongoing issues with pain management, anxiety, depression and so much more! They have experienced greater life satisfaction through exploring long-lost leisure activities or even new skills for improving the quality of life as a result of resolved or managed conditions."
~ Patti Frazier Daniel, OTR/L
"When I was at the College of St Catherine OT school in the 70s, we were instructed to treat the whole person. I believed them and tried my best but had very little understanding of what that really means, till now. With the help of the Holistic OT group and people like Emmy, new doors of understanding and support to the mission are opened. Together we are learning to embrace and treat the physical, emotional , spiritual, needs of our patients. To do otherwise is a mistake. So many opportunities for a diverse population… Aromatherapy, yoga, tai chi, Reiki, mindfulness – The sky is the limit. The important thing is for us to be truly connected to each patient that we see and let the healing flow." ~ Adrienne Guelker, Retired OT
"This community offers collaboration with occupational therapists who share a holistic perspective that is much needed in the world. Some of the gifts are being able to connect and gain new knowledge, inspiration and perspectives, which open new opportunities to advance our individual practices in healthcare and change the way we work." ~ Amanda Bartlett, OTR/L
"The TEI rehab and nursing facilities embraced me offering a holistic approach to the varied population of patients. While many pts. were in dialysis 3x week for 3-4 hrs at a time educating them, the technicians and nephrologists in integrative reflexology to stimulate the kidney points, diaphragmatic to elicit the relaxation response which lowered one pts blood pressure by 30 points!" ~ Fanny Mandelberger, OTR/L
"Just as body, mind and spirit can't be separated our communities, nations and world can't either and a holistic approach to all our challenges is the way forward. Occupational therapist can be important component in transforming our world." ~ Craig Pruett, OT Student
"I've relied on this incredible network of pioneering OTs for advice on how to start an independent OT practice in such a way that it is true to OT principles of whole-person care and self-care. There's also a wealth of ideas and encouragement surrounding a return to whole-person care within the traditional medical model. So many dimensions to each individual therapist and his/her preferred modalities, and such an empowering group!" ~ Meg Nalezny, MOTR/L, RYT
"The Holistic OT Community has helped me see that I am not isolated in my thinking about new directions for the field of Occupational Therapy, especially as it has so much more to offer than is allowed when functioning within the medical model." Phyllis Capana, ~ M.A. Counseling Psychology, OTR/L
"The Holistic OT Community has been a wealth of knowledge in everything holistic.  The therapists involved are always willing to answer questions, share experiences, share their own knowledge and provide support to the whole community. It has been helpful to me to help guide me towards areas of practice that I may not have thought of before. The monthly phone calls (when I am able to listen live and participate) are always so encouraging. I feel like I am at home in this community."
~ Andrea Cordis, COTA
Would you like to share what you love about the Holistic OT Community? Share in the comments below and we may add you to our list!
Watch a video about what is Holistic OT. 
Visit our Full Member Holistic OT Directory to find a Holistic OT near you!