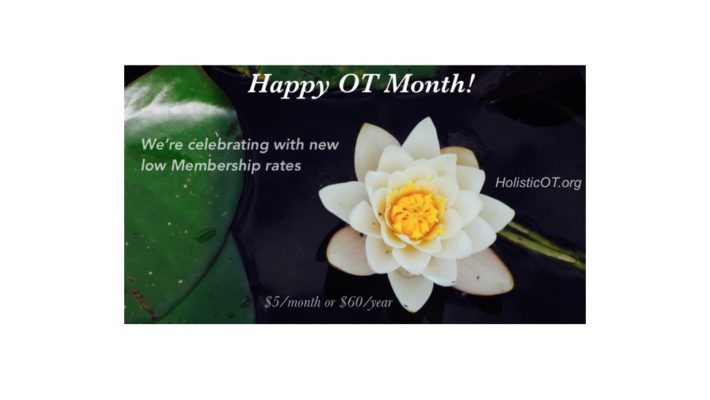 Happy OT Month 2018
Happy OT Month! We're celebrating with a new low full membership rate of $5/month or $60/year.
Occupational Therapy month is the time of year when we raise awareness about what it is OTs do and how an OT can help you. Please visit our blog, FAQ, Podcasts and other resources at HolisticOT.org.
What is Holistic Occupational Therapy?
Occupational Therapy is already a holistic field that addresses many aspects of a person's life; their Activities of Daily Living or occupations, from the individual to the environment. Holistic Occupational Therapy combines OT with complementary and integrative health.
Mission Statement
The Holistic OT Community provides the occupational therapy profession a place to connect with OT practitioners interested in or practicing complementary and integrative health, wellness, and prevention and those seeking these services, as part of occupation based practice.
The Holistic OT Community values connecting with and serving the whole person – mind, body and spirit, including the whole environment. Practitioners are healing artists and role models who embody self-care, therapeutic use of self, mindfulness, presence, spirituality, universal connection, balance, the life journey, love, joy, and peace as the catalysts to health and wellness.
Those seeking a Holistic OT Community practitioner can find competent OTs who have experience and education in complementary and integrative health, wellness, and prevention through the practitioner directory. Relevant resources, education, evidence-based practice and advances in neurosciences are shared through research, classes, events, videos, and articles.
Want to Learn More?

Check out the article from 2012 that was the seed for this growing community Holistic Occupational Therapy: Complementary and Alternative Medicine is an Expanding Practice Area in the Profession.
Become a Member – For OT Practitioners
What you will get as a Full Holistic OT Community member: 

* News and event announcements
* Access codes to listen to our Holistic OT conversation archives
* Opportunities to write articles and blog posts
* Practitioner Directory listing to promote your practice or proudly join other Holistic OT Community members
* Access to our Members Only page with practitioner tips and suggestions
* Advertising discounts for your courses and events
* The opportunity to connect and network with colleagues interested in or practicing OT with integrative health
* Invite to join the private Holistic OT Leader group on Facebook
Going to the AOTA Conference? 
Are you going to the AOTA Conference in Salt Lake City, UT April 19 – 22, 2018?
We've compiled a list of OT and complementary and integrative health, wellness, and prevention presentations and workshops for you to attend. 
How are you celebrating OT Month? Tell us in the comments below.