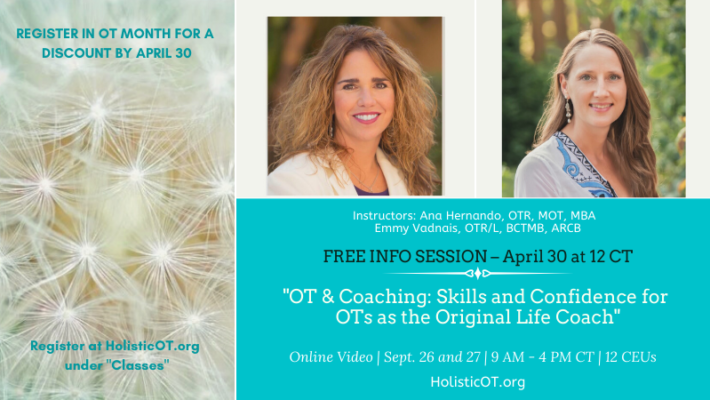 Free Info Session – OT & Coaching Class, April 30
Join us at the "Free Info Session – OT & Coaching Class" April 30 at 12:00 p.m. Central Time to have your questions answered about the upcoming class "OT and Coaching: Skills and Confidence for OTs as the Original Life Coach"
Register Here for Free Info Session
OT and Coaching:
Skills and Confidence for OTs as the Original Life Coach
Instructors: Ana Hernando, OTR, MOT, MBA and Emmy Vadnais, OTR/L, BCTMB, ARCB

Dates: September 26 & 27, 2020
Time: 9 a.m. – 4:00 p.m. Central Time
Location: 100% online via Zoom Video Conference
(you will need stable high speed internet, working camera, mic and speakers)
REGISTER HERE
Price: Early Bird for Live Class $299 – available until April 30, 2020
Regular Price and Recording: $349
No refunds as there is a recording option
12 CEUs:
Participants will receive a certificate of completion that may be submitted to their professional board for professional development credits. A completed course evaluation is required within one week of taking the class to receive a certificate of completion. This course meets the NBCOT requirement as a Professional Development Activity.
Course Description:
The OT and Coaching class will give occupational therapists the skills to successfully guide clients with coaching skills as outlined by the International Coach Federation (ICF) and the OT Practice Framework. The OT will understand how coaching can be utilized as a profound tool in occupational therapy practice for the occupation of being human. This class will enhance the occupational therapist's confidence using coaching as an effective tool with clients to meet their occupational performance goals related to health, wellness, and prevention.
Learning Objectives:
Identify how OTs meet the International Coach Federation (ICF) Guidelines through the ICF core competencies.
Understand and apply coaching ethics and standards appropriately in all coaching situations.
Demonstrate improved active listening skills and gain applicable knowledge on the art of inquiry to engage in powerful questioning.
Gain working foundational knowledge of the coaching process from intake interview to goal setting.
Understands the process to develop and maintain an effective coaching plan with the client.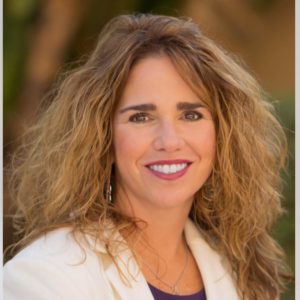 Ana Hernando, OTR, MOT, MBA is passionate about complementary and integrative health. She holds several certifications including Sensory Specialist, Level III Reiki provider, Self Talk Speaker and Trainer, Life Coach and Chair Yoga for Seniors provider. Ana focuses on empowering people to reclaim their health from the inside out. She is the creator of the 12wks2wellness program. She holds a Bachelor's Degree in Kinesiology, a Master's Degree in Occupational Therapy and a Master's of Business Administration. She has conducted continuing education seminars for several years and has been a guest speaker for America Airline Professional Women in Aviation, Texas Autism Conference, MOPS International, Mothers of Multiples, and The Lions Club International. Ana lives in a suburb of Dallas and currently consults for The Center for Cardiovascular Health as well as owns and operates her private practice, Holistic Solutions focusing on wellness and health promotion. Visit DoctorAna.net.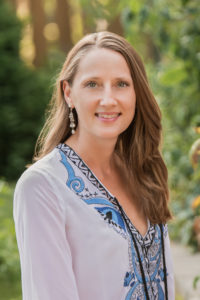 Emmy Vadnais, OTR/L, BCTMB, ARCB is a Holistic Occupational Therapist, who is Board Certified in Therapeutic Massage and Bodywork, an American Board Certified Reflexologist, and Intuitive Healer who specializes in integrative health, wellness and prevention. She graduated with her B.S. in occupational therapy and psychology from St. Catherine University in 1996. She is the founder and director of the Holistic OT Community that supports OTs interested in or practicing integrative health, wellness and prevention. She has a deep understanding of the mind-body-spirit connection having provided care as an OT and integrative health practitioner in the hospital setting, nursing homes, clinics, and private practice. She is trained in medical qigong energy healing, meditation, mindfulness, relaxation techniques, intuitive development and healing, guided imagery, massage therapy, acupressure, reflexology, aromatherapy, myofascial release, craniosacral therapy, emotional freedom technique (EFT), and yoga. She has been studying and practicing holistic and integrative health for 20 years. She teaches continuing education and provides consultation to health care professionals about how to incorporate holistic and integrative health approaches into their practice and for self-care. She is in private practice serving children and adults in St. Paul, MN. Visit EmmyVadnais.com and HolisticOT.org.