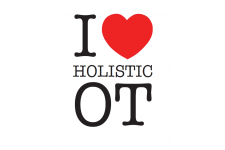 What is Holistic Occupational Therapy?
Occupational Therapy is already a holistic field as it addresses so many aspects of an individual and their lives, but what is Holistic OT?
Holistic OT encompasses practices that have been formerly known as Complementary + Alternative Medicine (CAM) that have been researched and integrated into mainstream healthcare.
HolisticOT.org serves a community of Holistic OTs as well as those seeking services. It is a place where Holistic OTs can create a profile listing in the directory, where folks can look for services, and where practitioners can find out about upcoming education resources for continuing education and professional development.
Want to learn more? Check out the article Holistic Occupational Therapy: Complementary and Alternative Medicine is an Expanding Practice Area in the Profession.
Mission Statement
HolisticOT.org provides the Occupational Therapy community a place to connect with fellow OTs about integrating Mind, Body, Spirit Medicine, Prevention, and Wellness in to OT Practice. HolisticOT.org provides resources, education, research, a Practitioner Directory, calendar of classes and events, and articles related to Holistic OT. Those seeking a Holistic OT Practitioner are able to find competent OTs who have experience and education in holistic approaches.